The church was illuminated and beautifully decorated for the nine lessons and carols. The children all did a fantastic job and made their parents and grandparents proud.
---

Installation of AED (Automatic External Defibrillator) in the phone box.

All those who would like to see an AED (Automatic External Defibrillator) installed in Rushden's phone box are invited to see short film entitled "The Day I Died" by Tom Morris on Tuesday 17th May at 7.30pm at the Village Hall. Entrance is £5 towards the cost of the AED. North Herts Council has generously given us a grant of £500 towards the cost and an AED has been offered by East of England Ambulance Trust, but we need to raise a little bit more.
---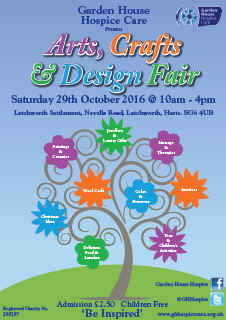 Easter Chick Campaign

I work for Garden House Hospice Care based in Letchworth, we cover North Hertfordshire and the surrounding villages such as Rushden.

Garden House Hospice Care provides a wide range of services for patients, their carers and families facing a life limiting illness.

Each year we need £2 million to continue to run many of our services including, Day Service, Inpatient Unit, Hospice at Home and Family Support service. Of this £2 million we only receive a third from the government, the rest is raised through fundraising activities. One of these fundraising activities is an Easter campaign called Charlie Chicks which you may have heard of.

Each year we have anything between 6,000 – 10,000 chicks knitted for us by wonderful volunteers and we then go on to sell them in one of our shops or have them sold on behalf of us. As you can imagine this is a huge amount of work which means us starting already for next Easter.

Unfortunately this year we have lost a fair few of our knitters and the knitters we do have will only knit the chick and they do not put the face on. We desperately need help to stitch the faces on the chicks.

Jordan Russell

Community Fundraiser

Garden House Hospice

Telephone : 01462 679540

Registered Office: Gillison Close, Letchworth, Hertfordshire, SG6 1QU

Registered in England Registered Charity No.: 295257
---
A FANTASTIC RUSHDEN QUIZ (27 February 2016)
photos with thanks to Wendy Gilson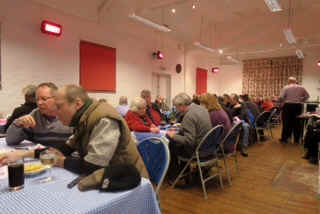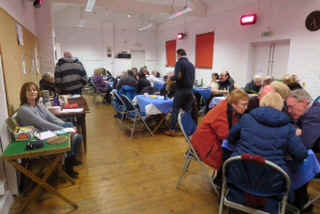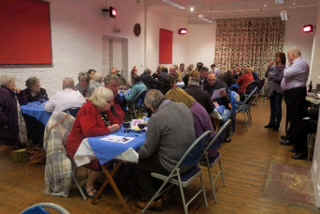 ---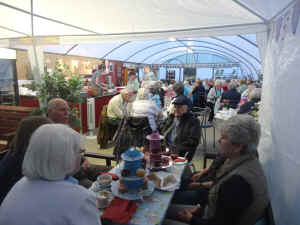 This is a picture taken at the recent Gardening Club British Legion Evening hosted by "Mill End Nursery" Rushden

A very good evening was had and the Hosting by The "Nursery" was superb (a visit to the tea room is recommended)

It incorporated a celebration of John Walker's 90th. Birthday
---

Today it has come to Knowledge that Clothall Church has had Lead and Copper removed from its main Nave Roof. Anyone seeing anything going on anywhere in the Villages please question it. Let me, the Church wardens, Police, Vicar, lets not just think its Ok cos someone else will let them know Cos that's when it goes wrong and they get away with things.
---

SHAW GREEN FARM – PUB FIELD & THISTLEY HALL FIELDS
Anyone driving down Rushden hill will have seen the excavators working in Pub and Thistley Hall fields – so what's going on?
Several months ago we were approached by agents acting on behalf of Thames Water Authority ( TWA ) and their various partners including the Wildlife & Wetlands Trust. They wondered if we would host a project to investigate the run-off of surface and land drainage water from farmland to measure any presence of Metaldehyde, and no doubt other compounds, which may or may not enter water courses. Metaldehyde is contained in slug pellets which are applied to winter cereals and Oil Seed Rape during the autumn when these crops are sown. Please don't ask me what harm, if any, Metaldehyde does ; it doesn't tell you on the side of the container, and the chemical companies don't tell you.
Pub and Thistley Hall fields were judged as being suitable to satisfy a number of different criteria, and we have been willing to host this scientific work. Since the price of a tonne of wheat is now less than the cost of growing an acre of the crop, there was no difficulty in agreeing to lose a couple of acres of crop in order to aid science.
The work comprises constructing a ditch parallel to Kingswoodbury Tributary, and dividing this into sections according to the land levels, to collect the water. The ditch is 3 metres wide at the top and 1 metre at the bottom, and the top soil goes back into the bottom so grasses may be planted therein. Water samples will be taken from the ditch, and analysed back in the laboratory by the boffins.
The study project is scheduled to last three years, during which time I hope it rains just enough after the crops have been sown for results to be obtained. Otherwise we may as well have not bothered to host the project.
Michael Streather
P.S. Don't be too generous with the slug pellets you put on your garden this autumn, you'll probably be applying them at a far higher concentration than we do in agriculture, something like one hundred times more!
---
A photo of the lovely flower meadows that can be seen from the footpath by the Lama's taken by John Dingemans.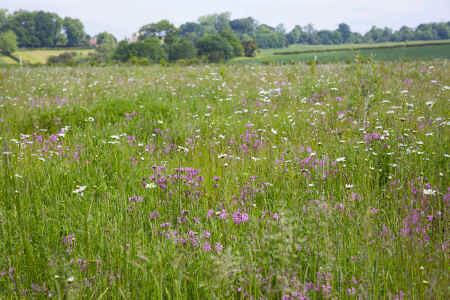 ---

Another succesful Rushden Fete was held on Saturday 2 July 2016.

Click here for some photos with thanks to John Dingemans.
---

RUSHDEN VILLAGE GREENS UPDATE APRIL 2016

Southern Green, Church Green and Shaw Green now have title registered at the Land Registry. A copy of the land register itself together with extracts from the official plan showing the boundaries of each of the Greens. Click here

Noted on the registered title are deeds granting rights-of-way (and sometimes rights for drains pipes wires et cetera) where residents in the past have wanted a formal document. The need for such a document is becoming a requirement of mortgage lenders, more and more and often eases the process of selling a house to someone who has not been used to living in a country area. Deeds can provide not only for rights of access and to have services running across the green but also the ability to access those services for repair and maintenance, which is not a responsibility of the trustees. Other properties may have the benefit of rights to pass across the green, simply through use for a long time although there are some old "leases" or licences where past trustees gave permission for access and so rights cannot be acquired by long use. The formal deeds first referred to above, continue to benefit the property even when there is a change of owner.

In April 2014, a written note was circulated to residents on or close to Southern Green and Church Green. For the benefit of the whole village, parts of that note are dealt with below.

HISTORY
On 6th February 1931, Southern Green, Church Green and Shaw Green were given
to trustees by the then owners, "uponTrust that the Trustees shall forever hereafter
stand seized of the premises hereby conveyed to preserve the said lands as open
spaces for the purpose of recreation of the inhabitants of Rushden ...may manage or
let the said land for the purposes aforesaid and there shall be vested in them
absolute discretion as to the type of recreation to be permitted on each of the said
pieces or parcels of land"

Unfortunately, although the Trustees were given land and duties, there is almost no incomewith which to carry them out! A small payment is received annually for an electricity wayleave and a once and for all payment for telephone lines and cables was recently obtained instead of a tiny annual rent. A modest fund has been built up over the years, which takes a substantial hit when trees need maintenance. We do some work and welcome assistance from residents who do some maintenance or grass cutting. Particular thanks should be given to John Dingemans and Martin Croker, who at different times have helped with an annual cut of those areas not dealt with by adjacent householders.

LEGAL POSITION
The Greens are registered as Common Land but not because separate public rights
have arisen from long use to be exercised without reference to the Trustees'
ownership. In essence, the land is private but the Trustees have a duty to keep it open and residents of Rushden may have the amenity of it.
The basic position is that the greens should not be obstructed. Deeds granting rights of way do not add to the title of the house which benefits. Drives remain part of the open space and available for villagers to ramble where they wish. Neither drives nor the greens themselves are car parks (although there is no objection to deliveries, workmen's vehicles or a specific "party type " need for occasional parking).

GUIDELINES
We would like to take this opportunity to commit to print for future guidance (and to provide something to hand over on a change of ownership), what we see as good use of the Greensand our maintenance plans.

Hedging and trees
Hedges have expanded and thickened. We intend to push back their boundaries to correctadvances made over the years, clear the scrubby area between Parknasilla and YounglovesCottage, and tidy the verges from Youngloves Cottage to the Youngloves Barns gateway. Areas of brambles need to be taken back or removed. We would like to see the hedges maintained with English native species.

Southern Green and Church Green are in the village Conservation Area with the
consequence that trees are protected. Only the Trustees should be involved in any
attention which may be needed to those on the Greens.

Mowing.
We are happy to leave mowing as a personal preference.

Edging and other verge protection
Please do not put stones poles or planking at the edge of the Greens or along
drives, in spite of the inability of some couriers etc to keep to hard surfacing. The
Greens do recover in spring/summer. If anyone wishes to install hard plastic mesh
which is shallow buried and becomes invisible, as protection for the edges of drives,
but not to form parking areas, we have no objection.

We intend to build up areas on the greens which have suffered from vehicle damage.

IDENTITY, INFORMATION AND QUERIES
The Trustees and registered owners are:

Chris Hill, Friars Grange, Offley Green, Rushden. 01763288266
Charles Gutteridge, Ty Cottage, Southern Green. 01763281272
---