News
Schools Christmas Card Competition - November 2017
A Christmas card design competition for local schools has proved tremendously rewarding, both for the Stanley Spencer Gallery and for the schools involved. Pupils in Years 5 and 6 of three local schools were given possible Christmas themes to engage their imagination, linked to the life and work of Stanley Spencer.
Click here for the full article.
Winner of the Cookham Festival Stanley Spencer Poetry Competition - 19 May 2017
In 2016 the Cookham Festival teamed up with The Stanley Spencer Gallery, The University of Reading and Two Rivers Press to organise an international poetry competition on the theme of Stanley Spencer; his work, his life, his themes, influences or beliefs. Over 200 poems were submitted which were short listed to some 76 poems, which have been published in a Stanley Spencer Poetry Anthology (price £9.99). The anthology was launched at a special Cookham Festival Poetry Evening at Cookham Dean Village Hall on Friday 12 May, when poems selected from the book were read. The judges announced a final shortlist from which the three competition prize winners were chosen (a winner and two runners up). The winners were announced and the prizes presented at the Stanley Spencer Gallery, Cookham, on Friday 19 May 2017.
Rosie Jackson was announced the winner for her poem "The Heaven That Runs Through Everything" and was presented with the Don and Jill Cawthorne prize of £2,500. The Stationers' Company Award, with a cash prize of £500 was Ross Cogan – "Zacharias and Elizabeth" and The Maidenhead Advertiser Award, with a cash prize of £500 was Richard Robbins – "Christ Carrying the Cross"
To celebrate the awards for the Stanley Spencer Poetry Competition, we commissioned 3 large pop-up display stands, each displaying one of the three prize winning poems. These are now on display in Holy Trinity Church and provide an interesting perspective from which to read the poems. Everyone is more than welcome to drop in and read them.
"Stanley Spencer Poems. An Anthology" contains not only the three prize winners, but 75 other poems which highlight the amazing quality of the over 200 poems submitted to the judges. The book is available at £9.99 per copy from the Stanley Spencer Gallery, or via the Cookham Festival website. It is also available from both Amazon and Waterstones.
Click here for some photos and a copy of Rosie's poem.
Hats Off for Spencer - April 2017
To celebrate the current exhibition and the hat worn by Daphne Charlton in one of the paintings, the Stanley Spencer Gallery invited visitors to wear their finest Easter bonnets, stylish hats, fashionable fedoras or comfy caps from now until Easter Monday.
Anyone arriving at the Gallery in a hat was invited to choose a postcard from the collection of over fifty Spencer paintings to take home with them.
According to Gallery Trustee and author of the new exhibition catalogue Carolyn Leder:
"The woman Stanley painted wearing the hat was ebullient, vivid, larger than life andit is a brilliant idea to recognise that with a 'hatastic' event for the Easter holidays."
Leading the way are Imogen Downes from Cookham Dean Primary School and her sister Ursula who made their fetching Easter hats at school on the last day of term. They learnt about the tradition of wearing a new or fancy hat at Easter, with everyone in the school making their own hat. Says Imogen:
"I love the detail in the flower on Daphne's hat and in the flower postcard I have chosen too."
Walk around 'Cookham'- -November 2016
On a glorious, sunny autumn afternoon Dr Nicholas Shrimpton, Emetrius Fellow of Lady Margaret Hall, Oxford took us on an exhilarating expedition into the mind of Stanley Spencer.
His subject was John Ruskin - Victorian artist, critic and polymath and idol of Spencer's father William. it was a voyage of discovery quite unlike any other. We started out with the odd clue here and there. Could the geologist Ruskin's interest in rock formations be reflected in Spencer's painting of the Tarrystone? Was it Ruskin's admiration for Giotto that sparked Stanley's? Spencer family conversations round the Fernlea tea table filled the air.
Dr Shrimpton made the link between Ruskin and Pa - in his younger days William played the organ at St Jude's Church Whitechapel next to Toynbee Hall, a social reforming charity named for one of Ruskin's Oxford students .....young men he had sent to mend roads in North Hinksey (Oxford) rather than play sport....and Pa would have socialised with them And so we had our irrefutable link to the prominent social thinker who believed in the great virtue of wholesome manual work, and so through William to Stanley.
However for me the spine tingling moment came with the discovery that Ruskin could not abide certain landscapes, such as John Brett's Val d'Hosta, in exactly the same way that Stanley dismissed his own 'potboilers'. Suddenly the clouds lifted and the incongruity between Spencer's beautiful and at times breathtaking paintings and his disdainful attitude to them finally made some sense.
The full account of our fascinating journey with Dr Shrimpton will soon be available to read here and it is one journey not to be missed.
After much discussion with her sister Imogen Downes and friend Annabelle Stratford, Ursula judged 'Apple Trees in the Snow' to be her top choice: "I love the detail and the realistic effect of the snow on the trees. It looks as if the snow has only just fallen." And as Imogen added: "It is snowy just like Ursula's own card."
Second choice was the roaring fire: "It makes you really feel like Christmas, sitting by the fire and once the fire is lit you know that Santa has been."

Then came 'Collecting Holly' "... because the drawing tells story that is relevant to Christmas very clearly."

A pupil of Cookham Dean Primary School, Ursula who is 8 years old, has been to the Gallery before with her school and very much enjoyed visiting again. She hopes to be an artist like Stanley Spencer one day.

RAISING A GLASS TO THE STANLEY SPENCER VOLUNTEERS - 13 November2016
With Spencer's love of daily routine elevated to the unique and extraordinary, he would have no doubt rejoiced at the Queen's Award for Voluntary Service recently won by the Gallery.
Lord Astor, whose father was a friend of audacious 20thcentury artist, Stanley Spencer, extended a warm invitation to all the volunteer custodians to a champagne reception at Cliveden last Sunday evening. As an aspiring artist, the young William Astor had been taught by Spencer. He later became one of the founding Trustees of the bijou Gallery in Cookham.
The photograph shows our host with long serving custodian, Di Benson, and freshman, William Smith, who joined the team in the summer. Di comments on her 15 year relationship with the Gallery which has changed from visitors viewing the paintings on a backdrop of brown hessian, through the 2007 refurbishment, to its current upwardly mobile position among the best of world class: "I have met many talented, clever and kind volunteers who have become friends and so it has been an enormous pleasure and privilege to have the gallery as part of my life."
And William explains how he became involved as a custodian: "It was quite daunting at first. I knew of the Gallery and had been there a few times but I wouldn't say I was a Spencer expert. I was persuaded to help by a friend who already volunteers with the Gallery and I am so pleased I did."
The constant in all this is that the Gallery is still run successfully by volunteers.
Presentation of the Queen's Award to the Gallery Volunteers - 28 September 2016
On Wednesday 28th September the Gallery volunteers were presented with their certificate for the Queen's Award that they won in June 2016. Gallery Chairman Stuart Conlin said "I am thrilled that the Gallery volunteers have won this most prestigious award. We have been recognised in this as a unique organisation which has existed in its current form for 54 years using an entirely voluntary workforce. In this period we have continuously provided expertly curated varying exhibitions and education facilities for the public, as well as accumulating the largest collection in the world of the British painter, Sir Stanley Spencer. Our 14,000 visitors per year come from all backgrounds and include the old, the young, the fortunate, and the severely disadvantaged. Our highly motivated workforce are always looking for new volunteers, so I would urge anyone interested to contact us E-Mail: info@stanleyspencer.org.uk if they might be interested in joining our award winning team!".

Spencer Down Under - September 2016
In August 2016 Stanley Spencer Gallery TrusteeCarolyn Leder visited Adelaide, South Australia, as keynote speaker at a study day held in connection with Carrick Hill's Stanley Spencer: A Twentieth Century British Master, the largest Spencer exhibition ever held in Australia..
To read about Carolyn's visit Click Here.
The photos show Carolyn by the Spencer painting From the Artist's Window and Carrisk Hill.

Watercolour painting by Paul Wanner of 'Christ Preaching at Cookham Regatta' -June 2016

Paul Wanner (see 'News' section 3rd July 2015) took up the challenge and has now produced a full watercolour version of Christ Preaching at Cookham Regatta. He and his wife did come to Cookham and were very taken with the Gallery and really excited to see CPCR in reality. Parts of it use his imagination, the pencil underdrawing is almost impossible to see in parts in reproduction - but it is a wonderful example of how people's creativity can be inspired by Stanley Spencer's work. Click here for a larger version of the painting..


Stanley Spencer Gallery wins Queens Golden Jubilee Award for Voluntary Service - 2 June 2016


The Sir Stanley Spencer Memorial Trust and Stanley Spencer Gallery have just won a coveted Queens Golden Jubilee Award for Voluntary Service (Announced 2nd June).

Just how does an organisation comprising only volunteers, with no paid staff at all, and no ongoing grant from Government or any other source, take on, manage and sustain such a remarkable operation, of such a scale, now in its 54th year?
The exacting and diverse tasks undertaken by the Sir Stanley Spencer Memorial Trust and the Stanley Spencer Gallery include:
- The safe-keeping of more than 120 precious works of the great 20th century painter. Except when a major Stanley Spencer retrospective exhibition is mounted elsewhere, the Stanley Spencer Gallery at Cookham has the largest collection of Spencer works on display anywhere in the world.
- Arranging the physical transfer of Spencer paintings and drawings (both lending these to others and accepting them on loan) across the UK and to illustrious exhibitions overseas.
- Running (as a modern, environmentally-controlled exhibition space) the wonderful refurbished nineteenth century Wesleyan chapel where Spencer once worshipped.
- Organising and mounting a series of stunning exhibitions (usually two per year) and all the marketing and publicity needed to draw visitors to these events in sufficient numbers to maintain the whole operation financially.
- Welcoming of visitors by knowledgeable and well-trained front-of-house volunteers,'who choose how often they will appear on the rota and when.

- A programme of talks and events, together with special sessions for visitors with wide-ranging disabilities.
- A highly active educational programme including frequent visits by groups of schoolchildren and carefully pre-planned movement of one of Spencer's great works to a 'lucky' school for a day of varied talks and discussion sessions.
- An impressive and ever-growing archive of Spencer-related material, with expert advice on hand, all largely open to visitors, as well as being routinely consulted by Art Historians and authors as well as in relation to Master's degrees, PhD theses, and other research goals.
- Achievement and maintenance of Full Accreditation under the Arts Council England Scheme
The astonishing underpinning to all of these facets is the purely voluntary workforce. What holds things together, therefore? What moves things forward and what gets things done? What produces the constant innovation within the Gallery that so enchants its visitors? Where does the energy, the expertise and the effort, the attention to detail, and the steadfast loyalty come from? What structures are in place to focus and channel these great attributes, to achieve the best and most rewarding outcomes for visitors and volunteers alike, and, most especially, for the memory of this great painter? How can this organisation manage without regular grant funding whilst others cannot? And finally, of course, what points can other organisations, large and small draw from this particular way of functioning.

This is 'The Year of Stanley Spencer' (see our website stanleyspencer.org.uk) and it seems very fitting to have secured this Queens Award for Voluntary Service in this already very special year.
Down Under in South Australia -12 May 2016

A packed audience in the Stanley Spencer Gallery on the evening of 12th May 2016 learned how the enchanting roofs of old Cookham are soon to be on exhibition in Australia and also how the diminutive Stanley Spencer had to gaze upwards to paint a sunflower.

These beautiful paintings and many others, most unseen for more than half a century in the UK, are to be exhibited at Carrick Hill Museum and Gallery in South Australia from 3rd August to 4th December, 2016.

The Loan Exhibition of Contemporary British Art in 1935 was the original event which led to the paintings of Stanley Spencer going to Adelaide and to Carrick Hill. This exhibition caused a sensation and the Carrick Hill owners, the Hayward family, formed a particular fascination with the work of Stanley Spencer. Following a series of connections and coincidences, many of Spencer's paintings were subsequently purchased in Australia and remain there to this day.


Richard Heathcote, Director of Carrick Hill, talked about the forthcoming exhibition, which will feature Spencer's flower and garden paintings. The exhibition is to be accompanied by an educational programme regarding Spencer, including a book and a documentary film. Filming for this is to take place in the Stanley Spencer Gallery towards the end of this month.

Gallery Chairman, Stuart Conlin commented ," This is a most significant part of 'The Year of Stanley Spencer', the details of which are on our website. Carrick Hill is our Cultural Partner and we were delighted to receive such an entertaining and illuminating account from Richard Heathcote.. We look forward to the filming later this month".


Students Inspired by Neighbours -16 March 2016

On Wednesday 16th March a unique privilege was granted to Burnham Grammar when Sir Stanley Spencer's painting 'Neighbours' came to school for the day. Complete with its own security guards the painting was admired and was the focus for teaching throughout the day.
Starting with its unveiling at assembly by students and Dr Gillespie, headteacher, the curators then explained to the audience the significance and inspiration behind this wonderful painting, which was voted as one of the nation's most beloved British paintings in a recent 'Art Everywhere' project. This resulted in the image of 'Neighbours' being displayed on posters all around the UK.
Commemorating a gift of red tulips between Stanley Spencer's cousin and his sister, passed over their shared garden hedge, the painting seems to evoke everyone's treasured experiences with their own best neighbours.
Most of our students were unaware that we have such an important 20th century artist as Sir Stanley Spencer on our very doorstep and this initiative of bringing one of his paintings into school has raised Spencer's profile significantly to a younger audience.
Last summer, a small class of Burnham Grammar GCSE art students visited the Stanley Spencer Gallery on the High Street at Cookham to assist them on their theme of Rivers, to see the inspiration behind Spencer's landscapes and local scenes and to be inspired themselves. Mrs Ward who has been instrumental in co-ordinating this latest collaboration, says:
As a teacher of art, I'm constantly searching for new and inspiring ways to encourage my students to enjoy works of art. As any teacher will tell you, arranging a visit can be a bureaucratic nightmare, but after visiting the Stanley Spencer Gallery in Cookham for source material as part of our rivers project for GCSE Art I had a conversation with Paul Grandidge, the Education Officer at the gallery and it was he who told me they were introducing a new scheme, whereby an original Spencer painting could be brought into school. What an opportunity!
Headteacher Dr Andy Gillespie said "This has been an exceptional inspirational and cultural experience for our students, thank you so much to the Gallery and their trustees for making this possible!"
Elina Dhaliwal 9C (13) It's such a rare and special opportunity to have it right here today, seeing the texture of his brush strokes is amazing.
Kristian Ulan 9C (14) This was a new experience for me and I am curious to learn more.
Both students have agreed they should now visit the Stanley Spencer Gallery in Cookham with their families to look at more of his paintings.
Harry Dennis (14) who helped to move the painting on to the stage before assembly says "I was particularly impressed by this unique experience and having the responsibility to manoeuvre such a cherished painting was an honour. I am keen to visit the Gallery now to see more."
Paul Grandidge, Education Officer at Stanley Spencer Gallery said, "We were delighted with the interest and enthusiasm shown by students and staff at BGS. Taking an iconic image from the gallery into a school is a wonderful and exciting way to introduce hundreds of young people to the world class art of Stanley Spencer. Our team of four volunteers presented six excellent talks covering subjects as diverse as Religious Studies, History, Drama, conservation of works of art, plus Art itself and all from one Spencer painting!"
Chrissy Rosenthal another member of the Gallery team reported that, at one point, the Year 9 drama class were invited to emulate the auditory environment that would have surrounded this painting. There ensued the noises of cows mooing, dogs barking, blacksmiths hammering on the anvil, geese honking and Stanley Spencer in the garden playing football with his brothers. That is, all the sounds of Cookham High Street at the turn of the century. Well done, Year 9 drama class!

A Packed House is Enthralled by Bishop Stephen Cottrell's Insights-5 February 2016

Members of local church congregations gathered together to join with The Right Reverend Bishop Stephen Cottrell in reflections on religious works of the great painter, Sir Stanley Spencer.  This was a very special evening, held amid the astonishing spiritualworks of Stanley Spencer in the Gallery's current exhibition. Click here for handout.
Teat Time at Shirin's 90th Birthday -21 November 2015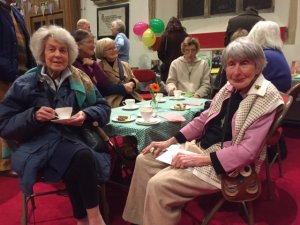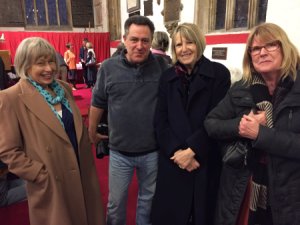 Several of the Gallery volunteers journeyed to deepest Wales last Saturday to join Shirin Spencer (Stanley's daughter) for the celebration of her 90th birthday. Despite her great age she still bounces around more like a nine-year-old and additionally spoke lucidly at length without any notes. She clearly still plays a very active role in her community where she is loved by all. Typical of her generosity she refused the idea of any gifts but instead invited representatives of all her favoured charities to set up stall in her church and accept contributions. Here she is joined by younger sister Unity for a nice cup of tea!

Spencer in Divine Company -22 September 2015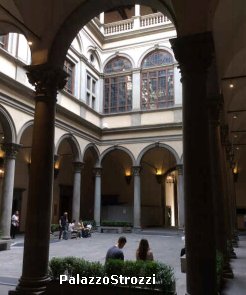 Stuart Conlin, Chairman of Trustees of the Stanley SpencerGallery, travelled to Italy last week to see two treasured paintings from the Stanley Spencer Gallery's current exhibition safely installed for a period of around four months as part of a prestigious exhibition at the world famous Palazzo Strozzi in Florence. The exhibition, 'Divine Beauty – from Van Gogh to Chagal and Fontana', opens on 24th of this month.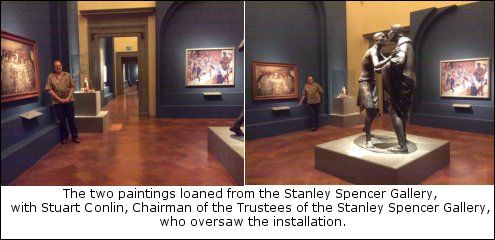 Stuart Conlin commented, "The exhibition is in one of the most important spaces in Italy and will expose Spencer to large audiences of Italians and international tourists. We can be so proud that Spencer is placed in the company of such stars as Gauguin, Van Gogh, Picasso and Matisse in terms of his standing as a painter of religious scenes." He added, "The whole exhibition is very beautiful, just as it needs to be in a city full of breathtaking art. The paintings from our own exhibition, interposed with a magnificent sculpture, are in a stunning setting."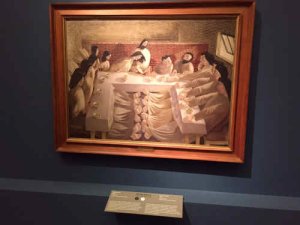 Spencer is one of only three British artists to be included in this influential show, which examines 'modern' Christian art, mainly from the late 19th and early 20th centuries. The paintings loaned from the Stanley Spencer Gallery's 'Creative Genius' current exhibition are the Gallery's own renowned Spencer painting 'The Last Supper', 1920, and 'Christ's Entry into Jerusalem', 1921, itself loaned to the Stanley Spencer Gallery by Leeds Art Gallery.
'For further information see http://www.palazzostrozzi.org/mostre/divinebeauty/?lang=en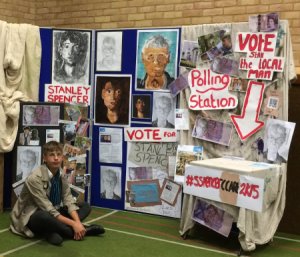 Stanley Spencer on the Twenty Pound Note -7 July 2015
Enterprising Year 10 boys from Claire's Court School, Maidenhead, visited the Stanley Spencer
Gallery on Tuesday 7th July and immediately set up this wonderful polling station to support the
choice of Stanley Spencer on the new £20 banknote.
Click here for The Reasons Why for Stanley
Watercolour painting by Paul Wanner of 'Christ Preaching
at Cookham Regatta' - 3rd July 2015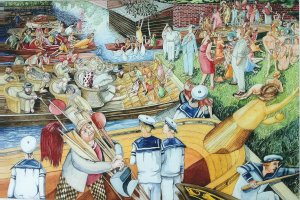 Paul Wanner, a retired Swiss citizen living in Basel, has produced a watercolour painting of how he imagines a section of 'Christ Preaching at Cookham Regatta' could have looked had Stanley Spencer lived to finish it. Paul has been an avid Spencer fan since the 1950s and became intrigued by the unfinished work, explaining; 'Since a picture like this
has always represented a big challenge for an art lover like me, I seriously began to think of copying and finishing it with my own ideas and for my own interest'. The result is a fascinating mixture of imagination and close observation of Spencer's underdrawings. Paul and his wife are planning to come to Cookham in August to see the full painting for themselves. Perhaps he will take on the challenge to produce a full finished version....
Painters 'By Their Own Rules:
Professor Paul Gough Speaks on the Subject of Banksy - Thursday 4th June 2015 at 7pm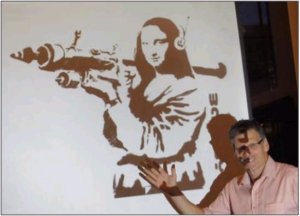 Few would think of Cookham's Stanley Spencer Gallery as a place to encounter the work of Banksy, that most secretive and controversial of public artists, a modern art phenomenon, both painter and prankster, who prefers personal mystique and invisibility over the trappings of celebrity. Banksy has been described as 'the missing face from the gossip magazines' and 'the empty seat at the chat show'.

However, it was no surprise to the staff of the Stanley Spencer Gallery to be in the happy position of offering an evening on Banksy last Thursday. The key to this sold-out and much enjoyed evening was the distinguished Professor Paul Gough*, who has not only edited a recent book on Banksy**, but is well-known to the Gallery and a frequent speaker there, being also the author of several books on Stanley Spencer. These include 'A Terrible Beauty' an extensive study of British art of the Great War, and 'Stanley Spencer: Journey to Burghclere', tracing the experiences and inspirations for Spencer's unique vision of peace and resurrection depicted on the walls of the Sandham Memorial Chapel, Burghclere.

Despite the extreme differences in the character of Banksy's work and that of Stanley Spencer, several parallels were drawn between the two painters in the course of the evening. Professor Gough pointed particularly to the controversial nature of both artists in their own time and their determination to function 'by their own rules', even when this brought them into conflict with the authorities. For Banksy, this has perhaps been a lifetime experience - as street art and the creation of graffiti are usually 'not legitimate' and consequently the perpetrator must be especially skilled at evading personal detection. Spencer, equally determined to do things 'his own way', regularly raised eyebrows with the extraordinary nature of his work, but actual conflict with the authorities came intermittently. There are, for example, well-known instances of dispute beween Stanley Spencer and the Royal Academy, one involving the rejection of two of his paintings and another, a brush with the police for alleged obscenity.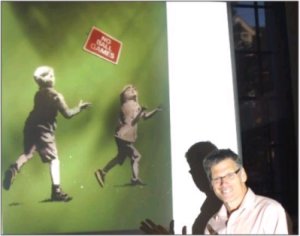 Another remarkable parallel between the two artists is the way that both attracted astonishing numbers to exhibitions in their own localities. In 1958, despite his international repute (towards the end of 1955, a large retrospective of Spencer's work had been held at the Tate), Spencer chose to mount a very 'local' exhibition, simply to raise money for church funds. The exhibition soon, however, became a national attraction, drawing visitors and press from far and wide. Similarly in an extraordinary retrospective exhibition of Banksy's work held in Bristol in 2009, over 300,000 people queued day and night for six weeks, often in the pouring rain, to view the work of this fascinating artist.

Professor Gough told us of two questions that everybody asks in relationship to his book. "Have you actually met Banksy?" and "Does he know you are writing this book?" The answers to the first is "Possibly, but how would I know?" and to the second "Probably but why do you think it's important?" These and other frequently asked questions, he says, reveal a grudging respect for Banksy's role as a satirical spokesman on contemporary matters, and also the British fascination with the 'whodunnit'.

Professor Gough regaled an intrigued audience with a series of displayed Banksy works (see photos on page 3) amid the Spencer Gallery's own much visited current exhibition, 'The Creative Genius of Stanley Spencer'.
Stanley Spencer - ever popular Southwold painting -12 Mayl 2015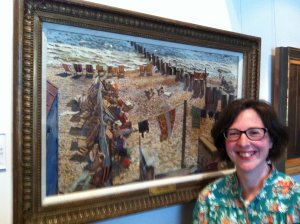 Tuesday 12th May 2105: Oh I do like to be beside the seaside! And this afternoon at the Stanley Spencer Gallery in Cookham was no exception.
Historian Dr Kathryn Ferry took us on a fun packed outing to the British seaside, inspired by Stanley Spencer's iconic painting of Southwold, which is on display at the Gallery's current Creative Genius of Stanley Spencer exhibition.
Looking at both the content and the context of the picture, we saw how the bathing machine evolved from horse-drawn medicine cart to the brightly coloured beach hut that commandeers one corner of Stanley's beach scene.
Kathryn described the Cookham artist as taking "the laziness of the deckchair to its full potential" in the painting, a far cry from the deckchair's origins as an uncomfortable upright wooden chair.
Sunbathing, a new trend in the late1930's, takes centre stage in Southwold. Swimming was all the rage too, highlighted by the row of woollen bathing suits at the forefront of the painting.
But this picture "tells us as much as it is not telling us", according to Dr Ferry. There are no modernist style holiday camps here, no hint of the ocean liner aesthetics so popular with beach architecture of the time at Blackpool, Brighton and Margate, "no sense of an alternative seaside".
Timeless, sparkling sea and warm sunshine are the order of the day in Southwold but as Gallery Custodian Chrissy Rossenthal said after the fascinating talk "it really is amazing the avenues Stanley can take you down."
And on a cold and rainy day in Cookham you need go no further than the Stanley Spencer Gallery for a warm, sunny trip to the seaside!
The Birchwood Painters Inspired by Spencer -7 Mayl 2015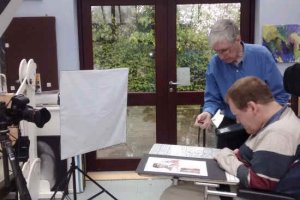 At the end of the Stanley Spencer Gallery Winter Exhibition in March the Gallery had a visit from the Birchwood Painters (who all have cerebral palsy) to look at Spencer's self-portraits. As they were inspired by his works, Dennis Jeffrey, a Gallery volunteer, suggested they follow the visit up with a project on self-portraits which would include them taking a photographic portrait of themselves at their home.
Click here for more information
Celebrated Northern Collections Come to Spencer's Cookham - April 2015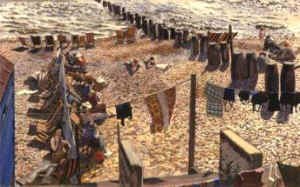 A large group of around 80 invited guests assembled in Cookham's Stanley Spencer Gallery on the evening of Saturday 25th April for the Official Opening of the Gallery's new Creative Genius exhibition. Speakers were Sir Peter Bazalgette, Chair of Arts Council England, The Right Honourable Theresa May, MP, and the Gallery's Chairman, Mr Stuart Conlin.
Click here for more information
C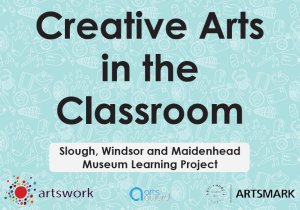 reative Arts in the Classroom - January 2015
In 2014 six museums in the Slough, Windsor and Maidenhead area embarked on an exciting project which aimed to enhance museum leaning in schools. Six museums were involved partnered with eight local schools including Cookham Dean C of E Primary School. One of the museums is the Stanley Spencer Gallery in Cookham High Street, where students can experience visual arts. Not only does the Stanley Spencer Gallery offer talks, guided tours and walks around Cookham showing where Spencer painted some of his works, but also resources include a loan box, large illustrated and laminated boards, a PowerPoint presentation on the life of Spencer, books and archived material available to view, a child's gallery activity sheet, postcards, prints and exhibition guides. It is also possible to consider bringing a Spencer work to a school/college by special arrangement and subject to security requirements.
Click here for more information about the project.
Renowned writer comes to Cookham - 12 November 2014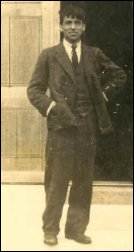 The former Methodist Chapel, now the Stanley Spencer Gallery, in the High St Cookham was packed to capacity last Wednesday (12th Nov) when art lovers came from far and wide to hear one of the country's most respected experts speak about paintings inspired by the First World War. Professor Paul Gough, a writer, broadcaster and world class artist, has a special connection to Stanley Spencer since the high ranking academic taught for many years at the university in Bristol part of which had been requisitioned as the Beaufort Military Hospital where Spencer served as a medical orderly
It's a Hanging Offence - November2014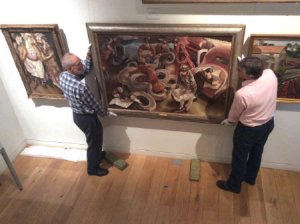 The Stanley Spencer Gallery currently has a surfeit of good news. Here is the 'hanging event' for our Winter Exhibition, commencing 6th November. Your attention is drawn, in particular, to Stanley's astonishing self-portraits, one in 1914 and the other in 1923.
The first is before Spencer's war service and the latter after - the former self-assured and confident, the latter reserved, uncertain and questioning, despite following the creation of some of Spencer's finest works in the aftermath ofhis wartime experience.
The 1914 self-portrait is in the Time Out list of 100 best paintings in London. But the painting is not, in fact, currently in London!. It is here in Cookham, loaned to the Gallery by the Tate! Time Out have told us that they cannot acknowledge that the painting is in Cookham, since they only deal with the art scene in London. It's a funny old world!
Christmas holidays and family visits? Think of the Gallery. It's multi-generational thing, with something to interest everyone. But do check the website for exact opening times.
Want to explore the possibility of an extended family guided tour to the work of this most renowned and intriguing artist as part of your Christmas celebrations? Phone 01628 471885. Click here for some more photos
BBC's Countryfile Film at the Gallery- October2014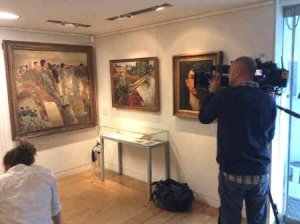 Cookham residents are asked to put a date in their diaries for Sunday 23rd November when Countryfile, with John Craven, will present its take on Stanley Spencer and the Gallery. We were so proud to be selected for this programme and absolutely delighted that the Spencer daughters, Shirin and Unity, agreed to be interviewed..
Director, Polly Billam, was delightful and certainly had her finger on the pulse, soon having everyone under control. Enjoy the photographs of the filming process below, to whet your appetite, and do get the date into your diary.
Christmas holidays and family visits? Think of the Gallery. It's multi-generational thing, with something to interest everyone. But do check the website for exact opening times.
Want to explore the possibility of an extended family guided tour to the work of this most renowned and intriguing artist as part of your Christmas celebrations? Phone 01628 471885.
Click here for some more photos
Spencer Gallery and The Joker (after Picasso) - September2014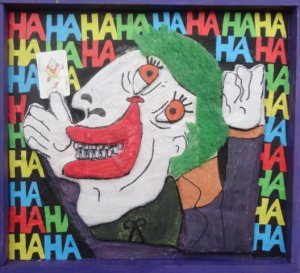 SSG was recently the host, and the prize, for an art competition for schools in Berkshire. The competition was managed by Creative Junction, an arts based educational organisation located in Slough, and involved primary, secondary and special schools. The competition was linked to The Sainsbury's Games for Berkshire Schools.
There were seven regional winners and then one overall winner chosen from these seven works of art. Each winning school was offered an exclusive, free visit to SSG with a gallery talk and guided walk around Cookham.
The judges Andy de Mille, Ann Danks and Paul Grandidge, found their task stimulating, very challenging and thoroughly enjoyable. There were many lively debates about the merits of the entries which totalled well over one hundred. Anna Jones, Director of Creative Junction, was on hand to display the art in SSG and ensure that the judges reached agreement. All the work was of a very high standard and it was wonderful to see that creative activities are still very much alive in our local schools.
The winning entry was The Joker which was created by children from Lynch Hill Primary School, Slough. The class had worked with their teacher on producing relief work based on some of Picasso's paintings. The judges chose this work from many others of a very high standard as the children had clearly looked closely at Picasso's style and then, rather than copy an existing Picasso, they had created their own image in the style of Picasso.
We were delighted work in partnership with Creative Junction to support this excellent event and we now await the visit of the schools to SSG as they claim their prize.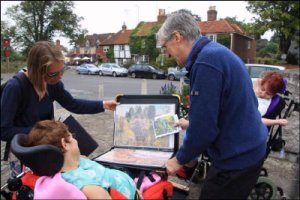 Chesham's Scope Visit the Gallery - September2014

In September the Stanley Spencer Gallery had a visit from four artists accompanied from a group called 'The Birchwood Painters'. These artists all live at Scope's Chesham residential service. The group is led by Community Artist, Anita Osborne
The group enjoyed a guided tour of the current exhibition followed by a walk along the High Street to see at first hand some of the locations f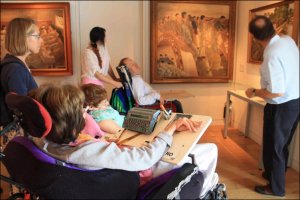 eatured in Spencer's work. Some of the artists made preliminary sketches of 'Unveiling the war memorial' whilst others compared how Stanley used local buildings and scenes with their own work.

The photographs were taken by one of their artist volunteers.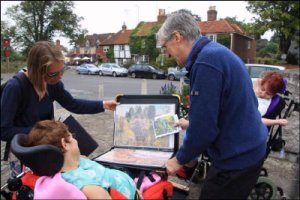 Larger than Life And how Stanley's Pa got into 'Bedmaking' - 23 August 2014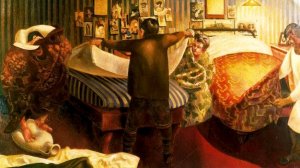 A talk on Saturday August 23rd, organised by the Stanley Spencer Gallery, Cookham, at the beautiful hilltop church of St Nicholas, Hedsor, allowed Stanley, however, to be viewed in rather a novel way.
Talkback Visits the Gallery' - 21 August 2014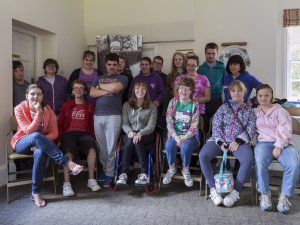 'On Wednesday 21 August 2014 we hosted an event at the gallery for 18 young people and five staff/volunteers from Talkback. Talkback aims to enable people with a learning disability to build and use the skills that will enhance their quality of life and to be as independent as they can and want to be. The theme this year was 'community'. Ann Danks took the visitors on a walk around Cookham to see the locations Stanley incorporated from his community into his paintings. The visitors then were introduced to the paintings in the Gallery for those locations to see how he incorporated residents into those paintings and watched a short video from Chrissy in which local residents described him and his work. They then selected an activity from a range of activities devised by Denise Cottrell which included either completing a sketch based on one of the paintings or making a story about the people in Christ Carrying the Cross, placing themselves and their family and friends in the house and watching what was going on outside in the street. Everyone then had lunch and a discussion in the Parish Center.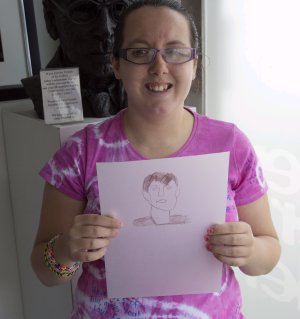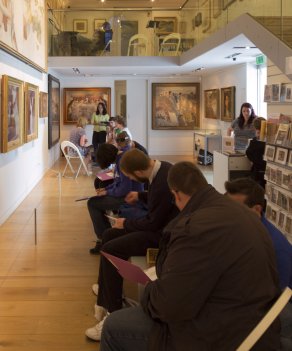 'Stanley Spencer and Distortion' - February 2014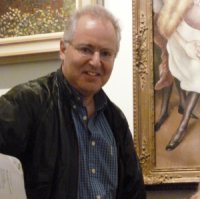 'On Monday 17th February Nigel Rapport (Professor of Anthropology, St Andrews University) gave a fascinating talk to a packed Gallery based upon his research into the subject of distortion in Stanley Spencer's art. He shared insights on a number of Spencer's more contentious figure paintings including the strange contorted couples featured in 'The Beatitudes of Love' series. He pointed out how Spencer himself was aggrieved by criticism of these paintings and at pains to dispel any suggestion that were satirical in content. Spencer wrote 'Whatever may be thought of me, the truth is evident in my pictures that everyone of these people are the beloved of my imaginings' (TAM 166). Professor Rapport is planning a book on the subject and spent several days studying the Gallery archives to add to his research.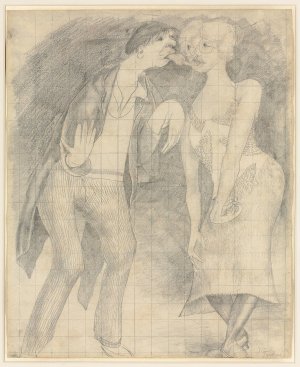 Stanley Spencer Gallery Maidenhead Schools' Project 2013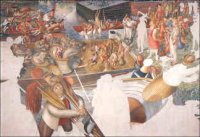 Following on from the highly successful Cookham Schools Project in 2012, The Stanley Spencer Gallery provided the opportunity for five Maidenhead Primary Schools to participate in a new project, funded by The Spoore, Merry and Rixman Foundation and the BAND Trust. Led by Arts and Education Consultant Anne Brown in collaboration with Paul Grandidge from the gallery, the project aimed to engage teachers and pupils with the paintings of Stanley Spencer through partnership working with professional arts practitioners. Click here for a fuller review

Click here to see it on YouTube..
Sir Stanley Spencer "Neighbour" Painting in World's Largest Art Show - August 2013


Stanley Spencer's painting Neighbour has been selected as one of the nation's favourite British works of art selected from a longlist from the UK's public collections and will be part of a vast exhibition, entitled Art Everywhere, that will go on display on thousands of poster and billboard sites across the UK from 12-25 August 2013. Neighbour painted in 1936 is part of the Barbara Karmel Bequest at the Stanley Spencer Gallery in Cookham and is currently on display in the Summer Exhibition Perspectives on Love. Stuart Conlin, Chairman of Trustees Stanley Spencer Gallery said "We are delighted to be participating in Art Everywhere which will give an opportunity for people all over the country to appreciate the work of Spencer and we look forward to welcoming visitors to the Gallery to see the original oil painting."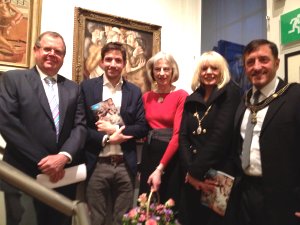 Official Opening of the Summer Exhibition - 11 May 2013

Dr Fox officially opened the Gallery's Summer Exhibition Perspective on Love. He said" I am delighted to be back in Cookham to open this wonderful exhibition, the theme Perspectives on Love is very appropriate as everything
connected to Spencer involved love in one way or another and it is a joy to see such a wide range of his paintings and drawings. The painting Domestic Scenes:Neighbour is a particular favourite depicting the love between Spencer's sister and her cousin."
(Photo left to right Stuart Conlin Chairman of Trustees, Dr James Fox, art historian, Rt Hon Theresa May MP, Deputy Mayoress Julie Jenner, Deputy Mayor Andrew Jenner.)

Spencer painting comes home! - 5 March 2013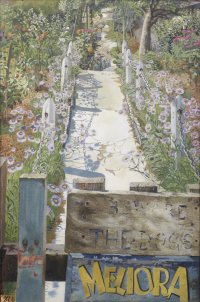 On show at the Stanley Spencer Gallery Cookham for a limited time only (9th - 24th March) is a painting with an important local connection which will have started its life just along the road from the artist's house in High Road, Cookham Rise.

Garden Path Cookham Rise , painted in 1949, shows the entrance off Briar Glen to Jack and Clara King's market garden. The Kings were greengrocers in the village for many years and Jack was known to help Stanley by transporting large paintings to London in his horsedrawn cart, usually used to deliver fruit and veg to local customers. 'Meliora' the name plate on the gate refers to the converted bungalow that Jack and Clara lived in, an interesting building that can be seen in another of Spencer's paintings Goose Run, Cookham Rise (1949). Originally sited in New Rd as a temporary replacement for the outgrown Wesleyan Chapel in Cookham Village (now the Stanley Spencer Gallery), it was moved to High Rd when the new Methodist Church was built in Lower Rd.

The picture perfectly captures the informal atmosphere of the working garden; viewed from the road, the autumn sun beats down upon the path casting shadows in which the heads of the asters mingle with the posts and chain link of a fence which struggles to contain the abundance of flowers and vegetation. Spencer was known for his meticulous observation of nature which he reproduced in great detail; plant lovers may wish to discover how many varieties they can identify in this colourful painting.

This delightful painting, shown here for the first time in the Gallery, has been generously offered for a short period by its owner in association with Bonhams. It has been in a private collection ever since it was painted, and will shortly come up for sale, as a result of which it may disappear again for many years. We would urge all lovers of Spencer landscapes to make an effort to come to see this work.

(Also last chance to see another Spencer highlight: Cookham On Thames, a stunning landscape painted in 1937 from a spot on Winter Hill, now part of the golf course, looking down towards the river and Cookham Bridge. Not seen in public for many years, this beautiful painting as been very generously lent by a private owner especially for this winter exhibition which ends on 24th March.)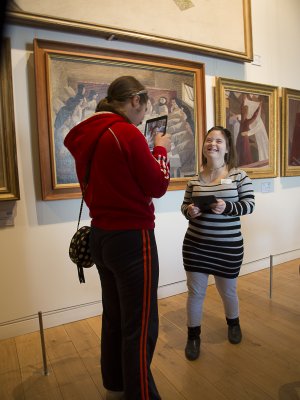 Community Engagement Initiative - 12 February 2013
The Stanley Spencer Gallery was pleased welcome 8 young people with a learning disability to the Gallery on Tuesday 12th February. The visit is part of a new community engagement initiative launched by the Gallery this year to ensure people with disabilities and other groups, whose needs require additional support, can enjoy a tailored visit to the exhibitions and walks that take place at the Gallery.

This group of visitors were taking part in a Talkback (http://www.talkback-uk.com ) programme to give people with a learning disability self-confidence, self-esteem and a voice in their community.

The Gallery also used this visit as an opportunity to incorporate the use of I Pads in the Gallery as part of a trial project taking place with AACT (http://www.aact.org.uk ) a charity which works to help small galleries to harness the power of technology to improve the experience of visitors to the Gallery.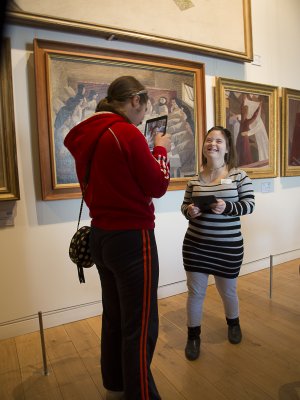 Community Engagement Initiative - 12 February 2013
The Stanley Spencer Gallery was pleased welcome 8 young people with a learning disability to the Gallery on Tuesday 12th February. The visit is part of a new community engagement initiative launched by the Gallery this year to ensure people with disabilities and other groups, whose needs require additional support, can enjoy a tailored visit to the exhibitions and walks that take place at the Gallery.

This group of visitors were taking part in a Talkback (http://www.talkback-uk.com ) programme to give people with a learning disability self-confidence, self-esteem and a voice in their community.

The Gallery also used this visit as an opportunity to incorporate the use of I Pads in the Gallery as part of a trial project taking place with AACT (http://www.aact.org.uk ) a charity which works to help small galleries to harness the power of technology to improve the experience of visitors to the Gallery.
A Village Vision - The Conference - 9-10 September 2012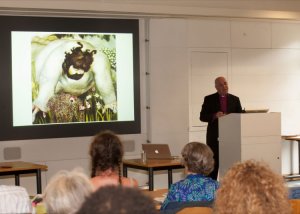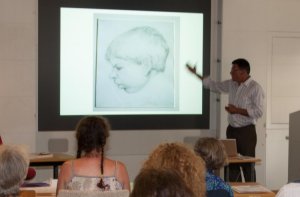 The final event celebrating the 50th Anniversary of the Stanley Spencer Gallery was a fabulous two day conference held at Moor Hall. Spencer had painted 'Travoys', his commissioned work for World War I, in the stable block there. Indeed, bathed as we were in glorious September sunshine, Cookham had never seemed more like the 'village in heaven' Stanley so loved, one where anything was possible.

Superman was not who we expected to find as we arrived on the first morning. But there he was, brought gloriously to life by BAFTA nominated art historian Dr James Fox. As a young boy, James, dressed as his alter ego Superman, had been dragged rather reluctantly to the Gallery by his Father only to find himself completely captivated by Stanley's painting of The Scarecrow. The picture, which can be seen in our current exhibition, is mesmerising for its ability to transform an ordinary object and turn it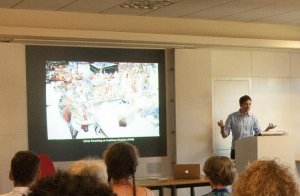 into something truly special. What's more it is set in Cookham, as is The Last Supper, described by James as having "the best feet in the history of art." He also believes "No artist has a more powerful connection to one place than Stanley does to Cookham " where Cookham has in some degree now become a product of Stanley Spencer, with us stepping into his imagination and seeing everything through his eyes.

And step into Stanley's mind we did, thanks to Paul Gough, an acclaimed artist, Professor of Fine Arts and Deputy Vice-Chancellor of the University of the West of England. Taking Stanley's elevated viewpoint we dived together into painting after painting, unravelling, decoding and marvelling at how Spencer could "see the world in a grain of sand and heaven in a flower."

With Carolyn Leder, art historian and a Trustee of the Stanley Spencer Gallery, Stanley's Scrapbook Drawings also came spectacularly to life. From the childish charm of the artist himself stringing chestnuts to the captivating beauty of Hilda's hair, it was glorious to discover in these scruffy pencil drawings, made on poor paper, such mesmerising talent and charm. It was all there - great draughtsmanship, a love of pattern, repeated motifs, wild excitement for all Stanley wanted to paint.

"Boldness, and the strange and satisfying patterns that Spencer saw between the outstretched necks of the swans and the arms of the men carrying the boats" were what first appealed to Stephen Cottrell when he was introduced to Spencer's work as a young 16 year old schoolboy. Now Bishop of Chelmsford, he guided us towards a greater understanding of Stanley's art though his faith, showing his paintings as windows into God, places of encounter, burning bushes.

The conference organisers, Ann Danks, Pam Campin and Chrissy Rosenthal gave us a really wonderful two days that also included a guided walk around the village, an in-depth look at the works of art owned by the Gallery and the ways younger generations continue to be inspired by Stanley Spencer just as our speakers once were.
Claire Phillpot September 2012.
'Stanley Spencer Gallery's Art Activity Day for children - 30 July 2012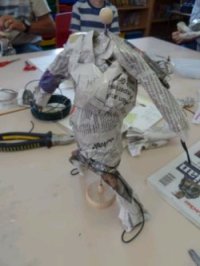 As part of the gallery's 50th anniversary celebrations a very successful Art Activity Day for local children took place on Monday 30 July 2012.
The event took place initially in the gallery and then continued at Holy Trinity CE Primary School which is very close by. The school proved to be an ideal venue and we are very grateful to Holy Trinity School for the use of their facilities.
The day was organized by Anne Brown, art and education consultant with the support of Ted Payne who is also an art and education consultant.
In the gallery the children were guided to identify and then draw interesting characters within the works on show. Following this observational drawing session the children began sculpting figures representing the characters from which they had chosen to work.
Anne carefully guided the children through the process of creating their own figures and at the end of a most enjoyable day there were very impressive results (see photographs).
At the conclusion of the session the children had not only enjoyed the works of Sir Stanley Spencer but had become expert sculptors. We have received messages from the families of the children concerned asking for more days such as this as the children had such a great time and haven't stopped talking about it!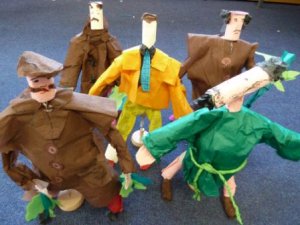 Stanley Spencer Gallery 50th Anniversary School Arts Project - July 2012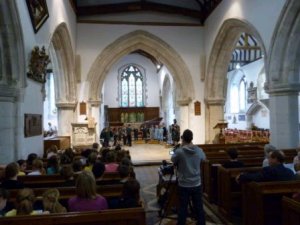 A special arts project involving the four Cookham primary schools formed part of the Stanley Spencer Gallery 50th Anniversary events during the summer term 2012. The programme of learning activities was led by Arts and Education Consultant Anne Brown for Key Stage 2 pupils (aged 7-11 years) and the schools developed creative responses inspired by the gallery's Anniversary Exhibition; 'Spencer's Earthly Paradise'. Pupils from a fifth school worked in partnership with film maker, Dean Soden to document the project.

The project began with a launch event in the gallery and at the Holy Trinity Church in Cookham for the pupils, teachers and the two practitioners for each of the four schools. The gallery launch event initiated the start of the schools exploring a particular painting in more depth through drama and music creative workshops.

In each school a group of up to 30 pupils and their teacher worked over four half-days in partnership with either music practitioner Rob Harris or theatre practitioner Tina Muir, to develop a range of creative outcomes in response to their chosen painting.

Cookham Rise Primary School created a musical response to the narrative behind the image in 'The Scarecrow' painting through the use of vocals, instruments and sound.

Holy Trinity CofE Primary School looked at the painting, 'St Francis and the Birds' to explore colour and how we engage with it emotionally, using movement, music, recorded poetry and human shadow puppets.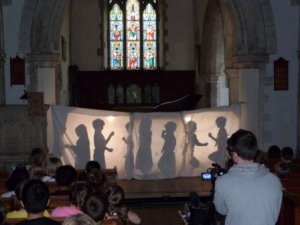 Herries Preparatory School used the painting, 'Sarah Tubb and the Heavenly Visitors' to explore through physical theatre what happened in the lead up to the picture and story behind itin order to capture a moment in time.

Cookham Dean CofE Primary School looked at how music could be used to help tell a story by creating ambience, mood and emotion, developing an original composition to express how they felt about 'The Last Supper' painting.

Priory Primary School, who had worked with SSG previously took on a documenting role. They created an on-line blog http://prioryprojects.blogspot.co.uk/ and then recorded and edited their own documentary short film.

In order to enable all of the schools to see each other's work, a sharing event was held at the end of the project in July at the Holy Trinity Church in Cookham, to which invited guests and trustees had also been invited. The project set out to enable the gallery to forge stronger links with its four local primary schools and enable more connections with its local community. All the schools expressed an interest in continuing to use aspects of the project for future work in the gallery.

SSG and the four local schools wish to express their gratitude to the following charitable trusts for their invaluable and generous financial support.

BAND Trust; Stevenson Family's Charitable Trust; Douglas Heath Eves Charitable Trust.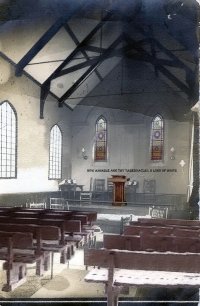 'Fish Shop or Gallery?' - 23 July 2012
As part of the 50th Anniversary events Ann Danks gave a talk on Monday 23rd July about the building which now houses the Stanley Spencer Gallery, formerly a Wesleyan Chapel attended by Stanley Spencer as a child. On such a hot summer's night it was great to see the Gallery so packed with people, who heard about the changes that have occurred to the building over time, the activities that have gone on within it and the people involved with it. Photos show computer generated images of how the building may have looked as the Wesleyan Chapel (with thanks to Ben Danks).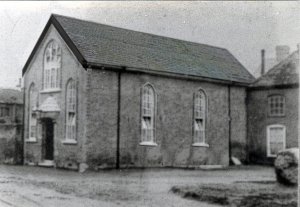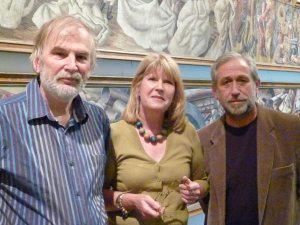 New addition to the archive
The research papers of the late Ken Pople, who wrote an acclaimed biography of Stanley Spencer, have been donated to the Gallery archive by his son David. Catalogued by Andy Daniels, a Spencer scholar who worked closely with Ken, these important papers make fascinating reading and give much background to the book. See 'Archive' section of the website for full details.
Photo shows David Pople, Ann Danks and Andy Daniels.
The Mayor Visits the Gallery to view new acquisition: Sir Stanley Spencer Hilda with Hair Down - 18 July 2012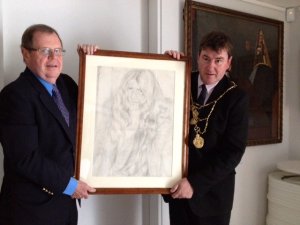 The Stanley Spencer Gallery, Cookham is pleased to announce a new acquisition Hilda with her Hair Down, a drawing by Stanley Spencer of his first wife Hilda. The drawing is the most important acquisition by the Gallery in recent years. This intimate portrait is one of Spencer's best known and beautiful drawings, representing an important moment of tenderness towards Hilda in the summer of 1931. It has appeared in all significant exhibitions of Spencer's works. The purchase was made possible by grants from the Art Fund and the V & A Purchase Grant Fund, and a donation from The Friends of The Stanley Spencer Gallery. The drawing was bought at Christie's London auction house.
The Mayor of the Royal Borough Windsor & Maidenhead Councillor Colin Rayner and Mrs Samantha Rayner visited the Gallery on Wednesday 18th July to view the new acquisition. The Mayor said " I am delighted to see this acquisition coming back to Cookham, especially in the 50th anniversary year of the Gallery. We are very proud in the Borough of the Stanley Spencer Gallery which is run entirely by volunteers."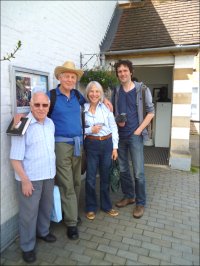 Piers Plowright Visits the Gallery - 28 June 2012

Piers Plowright visited the Stanley Spencer Gallery on 28th June to interview Trustee Carolyn Leder for a programme on BBC Radio 4 next spring, Piers' Thames Crossings series
Photo: John Brooks, Piers Plowright, Carolyn Leder, Alan Hall (the producer)
Stanley Spencer Gallery present cedar bowl to Rt Hon Theresa May - 4 June 2012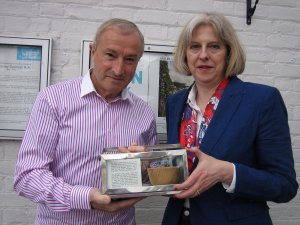 Jim Rosenthal, on behalf of the Stanley Spencer Gallery, presented a cedar bowl to the Rt Hon Theresa May. This bowl is made from the wood of the cedar tree which stood in the garden of Englefield House in Cookham. The bowl was made by Bryan Clarke.

The tree was painted by Sir Stanley Spencer RA in 1948 in his work 'Cookham from Englefield'. The tree was felled in 2011.
The painting was stolen from the Stanley Spencer Gallery in Cookham in April 2012. This was the first theft of artwork since the gallery was founded in 1962 and this presentation is in recognition of the work done by the police force in the hope that they can restore the work to its natural and rightful home.
Theresa thanked the Gallery for the bowl and said she would keep it in her office at the Home Office.

Spencer Spectacular- 19 May 2012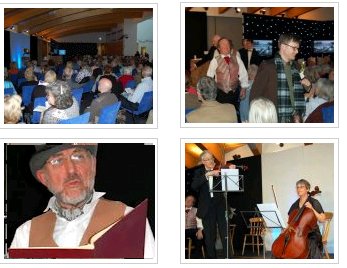 On Saturday, for one night only, the villagers of Cookham stepped back in time to celebrate the Queen's Diamond Jubilee. The year was 1897 and Victoria had been on the throne for 60 years.

Living in the heart of the village was the hugely talented and musical family of renowned local artist Stanley Spencer.

To mark the 50th anniversary of the opening of the Stanley Spencer Gallery, an enchanting evening of entertainment showcased their extraordinary abilities. From Pa, the local music teacher and poet, to brother William, a virtuoso pianist and Horace the magician.

The artist himself was bought alive thanks to a truly inspired performance from Simon Hedger, who had grown up in the village himself. Now with the Lodestar Theatre Company in Liverpool, Simon's characterisation of the artist was so credible that one member of the audience was heard to say "That is exactly how I remember Stan."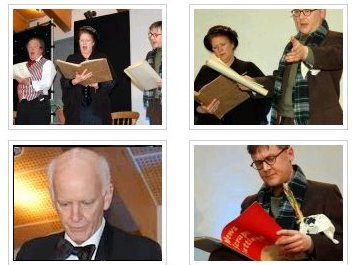 Robert Hazle, a music teacher at Reading Blue Coats, gave us an hilarious rendition of the old music hall favourite 'Poor Noah Moore', while local musicians Robert and Deborah Behrman, with Clara Charlesworth performed a delightful rendition of some of the music that proved such a rich source of inspiration to the artist.

Another local teacher Catherine Arnold was simply magnificent as Ma Spencer, leading the audience in the rousing hymn, 'Must Jesus Bear the Cross Alone?' a moving tribute to the Gallery in its former life as a Wesleyan Chapel where Stanley attended services with his Methodist mother.

Her husband, Pa, and real life partner Peter Hughes was performance perfect as was our host and master of ceremonies for the evening, the superlative John Hedger, whose Nightmare Song from Iolanthe has to be one of the evening's highlights, along with marvellous magician Mr Alan Gapes standing in for Mr Horace Spencer.

The talents of the individual artists were spectacularly showcased by the sound and lighting team of Ian Reeves and Chris Dinsey at the Odney Club, thanks to the kind generosity of the John Lewis Partnership.
Written, produced and presented by Cookham residents Chrissy Rosenthal and Claire Phillpot, both agreed "We like to think it is an evening Stanley would have enjoyed enormously himself."

Click here for larger images of the photos
Official Opening of 50th Anniversary Exhibition - 22 April 2012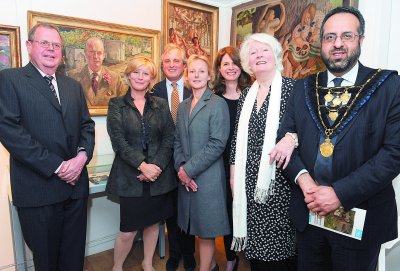 The official opening of the 50th anniversary exhibition took place on the 22nd April 2012 and was opened by Lord Astor and his step mother Bronwen, Viscountess Astor (wearing white scarf) the other three ladies are Bronwen's daughters. On left is Stuart Conlin Chairman of Trustees and on right the Mayor Asghar Maheed. The portrait in the photo is on loan and is of the third Viscount Astor, husband of Bronwen. It was attended by over 90 people including Spencer family members and friends of the Gallery. The opening was followed by a reception at Moor Hall.

Photographs courtesy of the Maidenhead Advertiser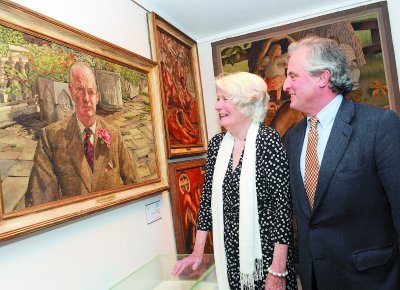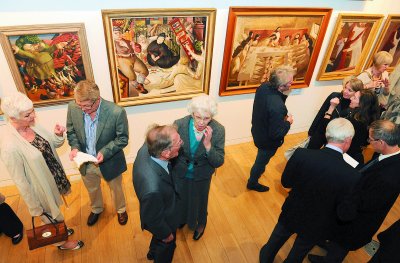 Dedication of Unity Spencer's Bas Relief - 28 March 2012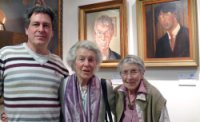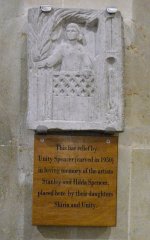 The Right Reverend Stephen Cottrell, Bishop of Chelmsford is a well known Spencer enthusiast and scholar and he took part in a special choral Evening Service at Holy Trinity Church. Music, readings and the sermon all reflected the importance of Spencer's association with Cookham. The bas relief carved by Unity Spencer in 1950 was installed and dedicated in memory of Stanley and Hilda Spencer.
Photo - John Spencer with Spencer's Daughters
Photo - Unity Spencer's Bas Relief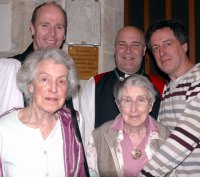 Unity & Shirin Spencer with (l to r) Fr Michael, Bishop Stephen and John Spencer
Stanley Spencer Voted in TOP Ten of British Artists December 2011
Stanley Spencer has just been voted in top ten of British artists (click here for Independent article), the public can still catch the latest exhibition Spencer's War The Art of Shipbuilding on the Clyde which closes on January 15th. This exhibition has some of his finest work.
The War Artists at the Spencer Gallery - 9 November 2011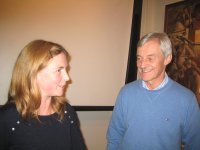 'Ulrike Smalley – senior curator at the Imperial War Museum gave a fascinating talk about the WAAC – the War Artists Advisory Committee. Choosing the title 'War Against Fascism' we heard about the work of the committee, chaired by Sir Kenneth Clark, and their role in commissioning art for propaganda to help the war effort. The current exhibition in the Gallery (to Jan 15th2011) Stanley Spencer's 'Shipbuilding on the Clyde' series was one of their commissions. Ulrike then shared with us some of her favourite paintings from the collection held by the IWM including works by Muirhead Bone, Graham Sutherland, Henry Moore and Eric Ravilous. The Gallery was full and the audience very appreciative.
Pictured are Ulrike and Gallery Trustee Andy De Mille
Unveling of Blue Plaque at Leonard Stanley - 15th October 2011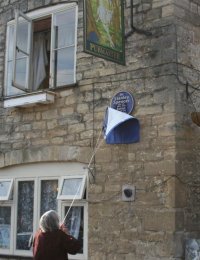 There was an exciting event in the village of Leonard Stanley near Stroud on 15th October 2011, where Stanley Spencer lived and worked during the early part of the war. A blue plaque was fixed to the wall of the inn in which he stayed, and was unveiled on Apple Day in the village when one of the Gallery's Trustees, Carolyn Leder, performed the unveiling ceremony at 3pm.
Carolyin can be seen sharing a soapbox with 'Stanley Spencer' after the unveiling.
In the final photograph visitors can be seen posing as the characters in Spencer's picture, 'Village Life, Gloucestershire', 1940. In the final photo, 'Stanley Spencer' and I share a soapbox after the unveiling.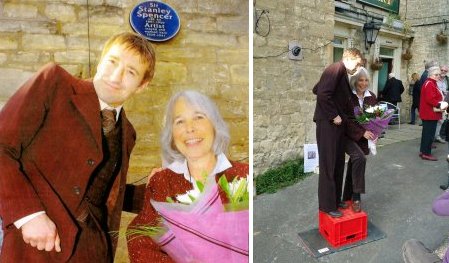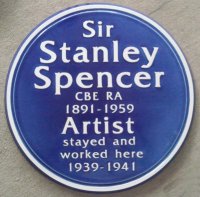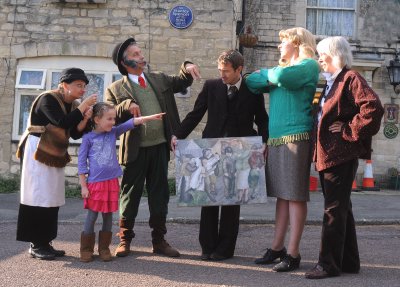 AN EVENING AT HEDSOR - 6 August 2011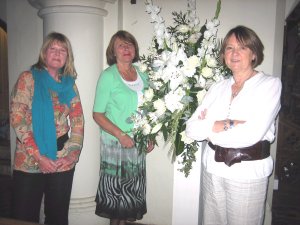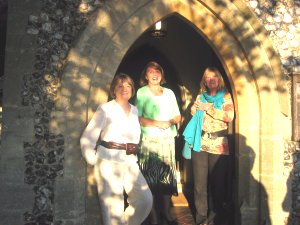 An Evening at Hedsor has become an event, which has become an agreeable regular feature. There was a talkby Ann Danks and Chrissy Rosenthal and a reception at Hedsor church where people can enjoy the view of that corner of the Thames Valley and see the church in which Stanley's father regularly played the organ.
(First photo Ann Danks, Maura Carr, Chrissy Rosenthal)
(Second photo Chrissy Rosenthal, Maura Carr, Ann Danks)
Brenda Emmanuel and Carolyn Leder
Your Loving Friend Stanley - 11 July 2011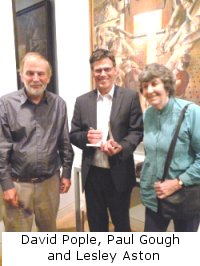 'Your Loving Friend, Stanley'
The Great War correspondence between Stanley Spencer and Desmond Chute
Edited and with essays by PAUL GOUGH
Artist, broadcaster and writer Paul Gough made a welcome return to the Gallery on the evening of 11th July. In a fascinating double bill Paul first outlined the background to his latest book (details below) before talking about the current exhibition 'Spencer's War; The Art of Shipbuilding on the Clyde' from an artistic point of view - discussing how Stanley Spencer used certain approaches in design, colour, composition and pattern in these paintings many of which he had practised at Burghclere and throughout the thirties. As always it was a hugely entertaining and informative evening. Photograph shows Paul Gough signing a book for Lesley Aston in the presence of David Pople, son of the late Ken Pople who wrote an acclaimed biography of Spencer.

The Great War correspondence written by the young artist Stanley Spencer to his friend Desmond Chute has been published by Sansom & Company in conjunction with the Stanley Spencer Gallery, Cookham.. These poignant, often illustrated letters detailing Spencer's thoughts and experiences whilst training for and serving in Macedonia during the First World War are preserved in the archives of the Stanley Spencer Gallery, and have now been collected together in a book; Your Loving Friend, Stanley, edited by Paul Gough. Introductory essays give the background to the correspondence, discuss its importance to Spencer and provide new information about the extraordinary young man, Desmond Chute, that the artist chose to confide in.
When serving as an orderly in the Beaufort Military Hospital, Bristol during the First World War, the young Stanley Spencer met Desmond Chute, a 20-year old aesthete and scion of a noted Bristol theatre family. A close friendship ensued, as the 31 letters in this collection attest. Far more sophisticated and better educated, Chute introduced the older man (Spencer was 24 when they met) to classical literature and great music and, perhaps most crucially, to the Confessions of St Augustine. Chute's influence on Spencer's intellectual development cannot be exaggerated.
Spencer's letters, written at first when awaiting posting overseas, are interspersed with small drawings which capture the artist's unique view of the military training he struggled to become accustomed to. Others from the battlefields of Macedonia give glimpses of his tribulations in a theatre of war and the strength he found through Chute's friendship and the books he was able to send him. At one point the young artist conjured up his beloved home village out of his imagination and sent his friend an eight page long epistle full of extraordinarily well-wrought reminiscences of Cookham, colourfully populated with places and characters. A few concluding letters written once back in the family home Fernlea, and Hampstead in the 1920s, chronicle how the two young men grew apart as their lives moved on.
All the letters are transcribed for the modern reader; some are also reproduced facsimile with Spencer's illustrations. Archive photographs provide a visual context.
Dr Paul Gough is the Professor of Fine Arts and Deputy Vice-Chancellor of the University of the West of England, Bristol. A painter, broadcaster and writer he has exhibited widely in the UK and abroad.
ISBN 978-1-906593-76-6
244 x 172mm
128pp
Softback
£12.95
Publication: June 2011
This book is available from the Stanley Spencer Gallery, Cookham and a proportion of the royalties will be given to Gallery funds.
'Stanley' by Pam Gems - Part of the Cookham Festival - 16 and 17 May 2011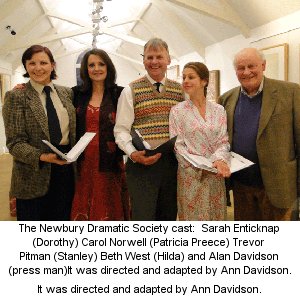 From toe caps to dockets the attention to detail in the Shipbuilding on the Clyde paintings featured in the current exhibition at the Stanley Spencer Gallery has you instantly spellbound. And so it was this week with the Newbury Dramatic Society's adaption of Pam Gems play 'Stanley'.From the patterned tank top and bottle top glasses of the artist himself to Dorothy's box camera and Patricia's vampish red shoes this was a thoughtfully staged and sensitively crafted production that honoured the smallest detail, just as Stanley did in his paintings.

Described by one critic as 'high-culture soap opera' the action revolves around Spencer's attachment to two women, his first wife Hilda and the scheming Miss Preece.

But it is left to a third, Dorothy Hepworth, to sum up the essence of Stanley as an artist: "He paints people trapped, as it were, in their own flesh, pinned down on this earth, and yet they seek to soar and he makes that seem very possible." These words had a heightened potency and dramatic effect sitting as we were in the shadows of five great works of art, monuments to the artist's unique talent.Adapted and directed by Ann Davidson I was intrigued to find out whether she and the cast had come to love or loathe the man who we in Cookham think of as 'our Stan', a man who wanted two wives and ended up with none. Ann replied "There is no doubt he led a complicated life but ultimately he was a genius and it was the essence of that we wanted to capture." And so it was left to the artist himself to utter the two final words in the play. "Beautifully done" he said and indeed it was.
'Stanley' is one of the best known works by leading playwright Pam Gems who died on 13th May 2011 aged 85.
Claire Phillpot

BBC FILMING - 16 May 2011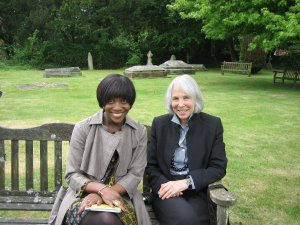 The BBC were filming in the Gallery for the story on Sothebys sale today16 May 2011. This was be on BBC 1 London News tomorrow night 17 May 2011.

They filmed in the Gallery and around Cookham and Brenda Emmanus, Arts and Entertainment Correspondent interviewed Carolyn Leder Trustee of the Gallery
Brenda Emmanuel and Carolyn Leder
SPENCER AND THE SHIPBUILDERS - 13 May 2011
The Stanley Spencer Gallery was packed out last night (Friday) for a fascinating talk about political and social changes during the Second World War, the period when Stanley Spencer was painting the 'Shipbuilders on the Clyde' series, currently on show in the Gallery.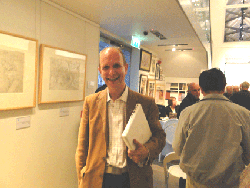 It was given by Dr Paul Rennie, Head of Context at Central St Martins school of art in London, and he used a superb selection of posters and art works to show how they were used for propaganda and social awareness. Spencer's 'Burners' had been turned into a poster to go in canteens and halls to encourage the 'common' man and woman to work hard for the War Effort.
We learnt not only about the use of such art, but about the processes involved in the printing and the damage done to the industry in the wartime period and why so few of these posters have survived. We will all be on the lookout now for rare posters which could make us a fortune!
Dr Paul Rennie - 13 May 2011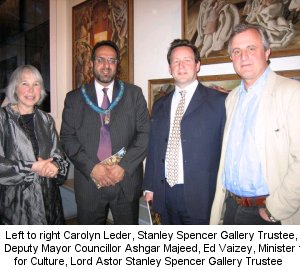 Ed Vaizey MP Minister for Communication, Culture and the Creative Industries officially opened the new exhibition Spencer's War: The Art of Shipbuilding on the Clyde on Saturday April 9th. Speaking at the launch to an audience of Gallery Friends and invited guests he said "Stanley Spencer has always been one of my favourite artists and I am delighted to be here to see the Gallery and to open this stunning exhibition featuring the ship building paintings loaned by the Imperial War Museum. I am encouraging the national galleries to loan more of their works to regional exhibitions like this." The Rt Hon Theresa May also attended the opening and said the Gallery's Summer exhibition is always a highlight of the year for her. She noted that the paintings are an important record of shipbuilding and exude the toil, heat and effort of the shipbuilders. Theresa also congratulated the Gallery's volunteers who have run the Gallery for nearly fifty years, saying that "it is The Big Society before it its time! "
The exhibition features Spencer's Shipbuilding on the Clyde series, one of the most remarkable artistic records of the Second World War. The paintings are on loan from the Worthing Art Gallery (The Furnace Man, with its preparatory portrait drawing), and the Imperial War Museum (5 long panels: Riveters, Bending the Keel Plate, Riggers, Plumbers & Furnaces), plus 34 drawings for the series. Spencer accepted an official commission from the War Artists' Advisory Committee (WAAC) to go to Port Glasgow, Scotland, to depict work in a shipyard. The vessels under construction were merchant ships for importing food and raw materials, many of which were lost on Atlantic convoys.
The shipyard caught Spencer's imagination and he produced a series of canvases depicting the major trades involved in ship construction in considerable detail. This type of heavy industry no longer exists on Clydeside. As in his murals in the Sandham Memorial Chapel, Burghclere, which commemorate the 1st World War, he concentrates on everyday activity rather than grand events. The distinctive long, narrow horizontal format of the pictures forces the figures to adopt complex and unusual poses, reflecting the cramped conditions under which they worked. The inventive compositions are suffused with heat, noise and the dramatic glare of light on metal. Spencer was fascinated by the abstract shapes of tools and metal, which he uses to form characteristic repetitive patterns. He drew continuously, sometimes on rolls of toilet paper, and from these sketches worked up his complex and eminently successful compositions, with which the WAAC was delighted. The pictures were widely exhibited to boost national morale. Recently cleaned, they will form a spectacular exhibition in the Stanley Spencer Gallery.
Spencer achieved a rare feat by producing some of the most original masterpieces by any artist in response to the two great conflicts of the twentieth century. He was an Official War Artist in both World Wars, producing Travoys in 1919 and Shipbuilding on the Clyde, 1940-6. His great cycle of wall paintings in the Sandham Memorial Chapel, Burghclere (now National Trust) commemorate his experiences in the RAMC and infantry during the First World War.

Click here to see some photos

Click here for more photos
A Visit from Rotterdam Museum - 1 April 2011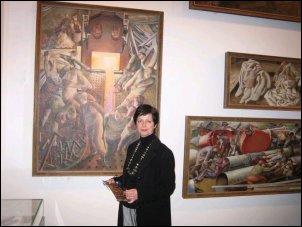 Alied Ottevanger, the Curator from the Kunsthal Museum, Rotterdam visited Cookham today 1 April 2011. Alied will be giving a talk this evening at the Friends of Stanley Spencer AGM at Moor Hall. Alied met with Michael Johnson who is Chairman of the Friends.
There will be an extensive Stanley Spencer exhibition which is being organised in the Kunsthal in Rotterdam from 17 September 2011. Alied will be able to give a view of Stanley from the sort of European perspective which will be new to those in Cookham who tend to be very close to his origins. The Friends of the Gallery will be making a visit there in October.
Click here to see some more photos
Setting up the Summer Exhibition 2011 - 28 March 2011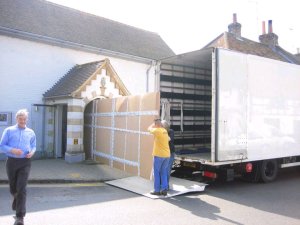 It was all hands on deck on Monday 28 March at the Stanley Spencer Gallery when the Winter Exhibition was taken down and delivery of the paintings for the Summer Exhibition were being delivered. It was a tight squeeze getting some of the exhibits through the door.

The Summer Exhibition is entitled Spencer's War, the Art of Ship Building on the Clyde and the majority of the works have been lent by the Imperial War Museum. In addition to the paintings arriving from the Imperial War Museum, others were being taken away as some of the Gallery's works, including Christ preaching at Cookham Regatta, are being loaned to Rotterdam Museum who are mounting the largest Spencer exhibition ever in Europe. Alied Ottevanger from the Rotterdam Museum is visiting Cookham this week and will give a talk at the Friends of Stanley Spencer AGM on Friday night at Moor Hall.

The Summer Exhibition actually opens on Friday 1st April, so there will be some hard work undertaken to ensure it is all ready for visitors.
Click here to see some more photos
Stanley Spencer Gallery Wins Design Award - 20 January 2011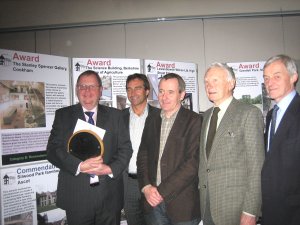 The Royal Borough of Windsor and Maidenhead's Design Awards Scheme which was started in 1993 and aims to identify and celebrate the best of recent development in the Royal Borough. The 2010 Design Award Scheme was open for any new scheme completed between 1 January 2004 and 31 December 2009.
The 2010 Awards Ceremony took place on Thursday 20 January 2011, held in Maidenhead Town Hall's Desborough Suite. The winners in the five categories received plaques from Cllr Alison Knight, Cabinet Member for Planning and Development.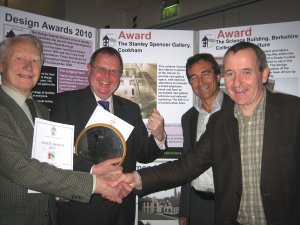 The Stanley Spencer Gallery won category B - Renovations or Extensions.


The Stanley Spencer Gallery, Cookham won for re-planning of the interior to provide new gallery space, with external alterations to relocate a listed telephone kiosk and create an accessible new glazed entrance and external surfacing.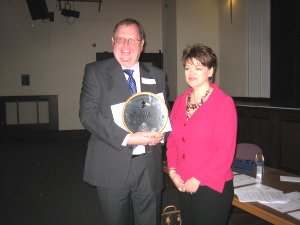 Luke Haines Visits Stanley Spencer Gallery -12 November 2010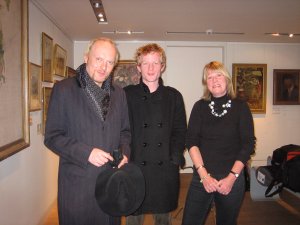 Singer/songwriter Luke Haines today visited the Stanley Spencer Gallery to film a clip for his forthcoming documentary film "Art will save the world". Luke who was born in 1967 has made records with the Auteurs, Baader Meinhof and Black Box Recorder.

Luke said "I have been visiting the Stanley Spencer Gallery for more than eleven years and some of my songs have been inspired by Stanley Spencer, I love his work. A track - English Southern Man - from my latest album 21st Century Man mentions Spencer in the lyrics."

The film is being made by Happy Ending production company, Dublin and Luke was accompanied by Director Niall McCann.
Photo caption

(Left to right :Luke Haines, Niall McCann, Ann Danks Archivist Stanley Spencer Gallery)

Professor Keith Bell Visits the Gallery - October 2010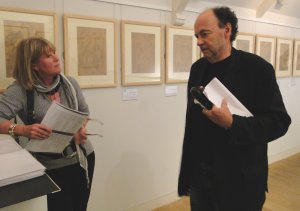 Professor Keith Bell, Head of Art History, University of Saskatchewan visited the Gallery in October to do research for his catalogue for the forthcoming Spencer Exhibition at Compton Verney. Keith Bell's huge work - Spencer's Catalogue Raisonne, is on sale in the Gallery. He has promised to give a lecture in the Gallery in 2011.
Photo is of the Gallery's Archivist Ann Danks and Professor Keith Bell
Spencer at Hedsor - July 31st 2010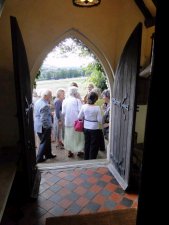 'The Sacred and the (not very) Profane' was the title of this years evening at St Nicholas Church in Hedsor. Once again we were so lucky with the weather and were able to enjoy the magnificent view across the Thames to Winter Hill and Cockmarsh - a view Spencer was very familiar with. Ann Danks talked about his connections with the church - his 'Pa' was the organist and Stanley and his brother Gilbert would often walk across from Cookham to join him. She then went on to explain how Spencer's religious feelings and his everyday life combined in his work. After the break - and a very enjoyable glass of wine in the evening sunshine - Chrissy Rosenthal looked at the 'not very' profane as she examined his time during World War 2 which he spent in the Cotswolds with his then lover Daphne Charlton. These evenings are a delight for all who attend and thanks go to St Nicholas Church and Maura Carr for organising the evening.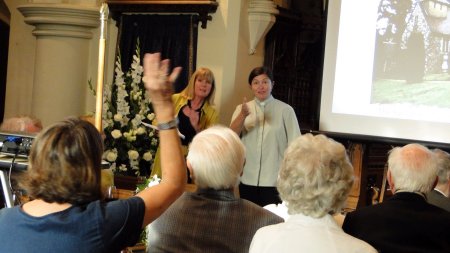 The Summer Exhibition 2010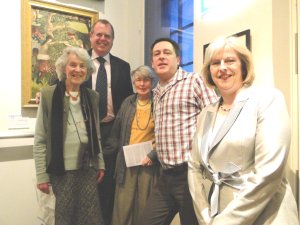 The Summer Exhibition 'Stanley and the first Mrs Spencer' was formally opened on Saturday 10th April 2010 by Shirin and Unity Spencer. They spoke of their childhood with their mother Hilda - the first Mrs Spencer. Several other members of the family were also present - inlcuding Spencer's grandson John. (picture) Local MP Theresa May. A great Spencer enthusiast - also took time out of campainging for the General election.
The photo on the left taken at the official opening sows from left to right, Unity Spencer, Stuart Conlin Chairman of the Trustees of Stanley Spencer Gallery, Shirin Spencer, John Spencer, Unity's son, and Rt Hon Theresa May MP.

Journey to Burghclere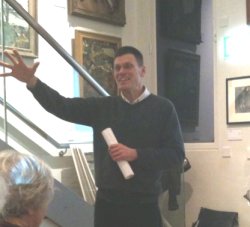 On Thursday 25th February 2010 Paul Gough came to the Spencer Gallery to talk about his book 'Journey to Burghclere' which looks at Spencer's time as an official war artist in World War I and his time in Salonika. Paul is a broadcaster, painter and writer,and has exhibited in the UK and abroad.. As a broadcaster he has presented art programmes on ITV and BBC2, and spoken frequently on BBC Radio 4. He has also worked as a presenter and associate producer on several documentaries.

Paul Gough's new book 'A Terrible Beauty': War, Art and Imagination 1914-1918 is about the work of Britain's war artists, a subject which has been well documented, but his penetrating survey throws new light on their motivations, responses to the conflict and their unique, and widely varying, interpretations of the effects on the combatants. Profusely illustrated, with many familiar but also less familiar images. It gives new insights into the work of the major and lesser-known artists of the First World War, including David Bomberg, Muirhead Bone, Sidney Jones, Henry Lamb, Adrian Hill, Paul Maze, John Nash, Paul Nash, Nevinson, Orpen, William Roberts, William Rothenstein, Stanley Spencer, Harold Williamson and Wyndham Lewis (978-1-906593-00-1 SOFTBACK 336pp £29.99 available at Gallery).
BBC The One Show Filmed with Giles Brandreth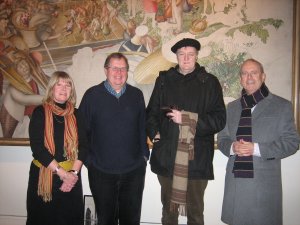 Giles Brandreth visited the Spencer Gallery on 23 February 2010 to film a story on Stanley Spencer for The One Show (to be broadcast on March 1st 2010). He interviewed author and art historian Patrick Wright, who co-curated the Spencer Exhibition at the Tate Gallery and Joan George who last year published a book on Spencer. They also filmed at Holy Trinity Church, the War Memorial and Fernlea in the High Street, where Spencer was born.
David Haycock Talks About his New Book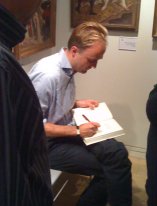 David Haycock talked at the Spencer Gallery about his new book, "Crisis of Brilliance" in October 2009 and then December. He is pictured here signing his book. Crisis of Brilliance tells the story of Dora Carrington, Mark Gertler, Paul Nash, Christopher Nevinson and Stanley Spencer, who were five of the most important British artists of the twentieth century. From diverse backgrounds they met at the Slade School of Drawing, Painting and Sculpture in London between 1908 and 1910, in what their teacher, Henry Tonks, later described as the School's 'last crisis of brilliance.It's not biography in the traditional sense at all but a history of art, artists and their times and interestingly this is the first time that there has ever been a study of these artists as a group.

David Boyd Haycock grew up in West Africa, East Anglia and North Yorkshire; he read Modern History at St John's College, Oxford, and Art History at the University of Sussex, before studying for a PhD at Birkbeck College, London. He worked in publishing, and as an archaeologist, before becoming an academic historian and then a museum curator. His two areas of particular interest are the intellectual history (broadly speaking) of the seventeenth and eighteenth century, and the history of art in early to mid twentieth-century Britain.
Fifty Years on Some Memories of Stanley Spencer

An anthology compiled, edited and updated by Joan George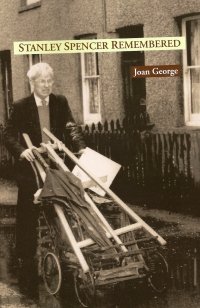 Stanley Spencer Remembered is not only an anthology of people's memories of the artist it also provides a glimpse into mid-twentieth century social history and its effects on Cookham, Stanley's home and the inspiration for much of his work. Joan George recalls how, following the artist's death in 1959, determined villagers fought for a Memorial to him in Cookham- a village in heaven – as he described it.
From modest beginnings selling postcards in the front room of Spencer's birthplace, readers are shown how the campaign escalated up the social ladder to Lord Astor, whose support the village gained for the conversion of a disused village hall into a permanent memorial gallery of the artist's works.
A great variety of some twenty people's memories is enhanced by the insights of Spencer's two daughters and the compiler's own experience of her stormy interviews with the artist before finally gaining his trust and later friendship.
Ending with an open "letter to Stanley", the reader is led through a series of Spencer-orientated events between 1959 and 2009. The idea originated with Stanley's unusual compulsion to write frequently to his beloved first wife, Hilda, long after she had died.
Stanley Spencer Remembered aims to supplement more learned works by revealing the humorous, adaptable and sociable side of the artist, who on his own admission, had many "selves". The book includes photographs of the artist at work and in groups with family and friends. It shows how Spencer, with so many unfulfilled dreams, finally came to terms with reality in his own native village – Cookham
Taderon Press, London, 2009 92pp £6.00.
This book is available from the Stanley Spencer Gallery, Cookham
This is the second book written by Joan George this year, Joan is 87.
Summer Has Officially Arrived in Cookham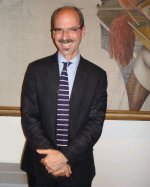 Summer has officially arrived in Cookham! The Summer exhibition, ' Stanley Spencer and the River Thames' was opened on Saturday 16 May by Dr Stephen Deuchar, Director Tate Britain. Calling Spencer 'One of the most important figures in British art' he said it was high time the Tate revisited his work and that he would be considering staging a major exhibition in the future. Asked recently to name his top ten paintings in the world he chose Swan Upping as one of them – the painting currently hangs in the gallery as one of four paintings on loan from the Tate. Calling the Gallery a 'small but perfect' shrine to Spencer's works he said Spencer was important not only to Cookham but to England and the wider world, that we should cherish his ability to see miracles all around.
Dr Deuchar brought his young daughter Faith with him to Cookham, and they spent the morning walking round the village looking at the places which inspired the artist. Growing up in a small village herself Dr Deucher hoped that she too would understand that sense of place that was so important to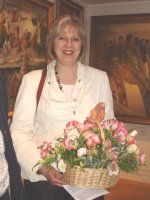 Spencer.

Among the other guests were Lord Astor, whose father was Spencer's patron, Unity Spencer his younger daughter, Theresa May MP and the Mayor of Maidenhead Councillor Dorothy Kemp.


Also present were Friends of the Gallery and owners of many of the paintings on loan to the gallery collection. Stuart Conlin, chair of the trustees welcomed everyone and underlined how successful the refurbishment of the gallery had been, and that more visitors than ever were now coming in to the gallery. The Mayor and our local MP were then presented with baskets of flowers made by Molly Hurley, one of the custodians.


A Spencer Collage for the Cookham Festival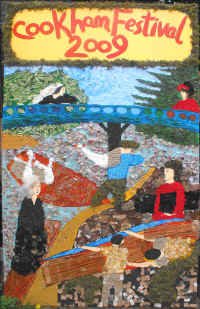 For the Cookham Festival the Maidenhead Painting Club which meets on Thursday evenings at Holy Trinity School in School Lane Cookham produced a fantastic collage.
The subject was this fabulous version of Stanley Spencer's famous painting Swan Upping. It was created by Louise Wood and the Maidenhead Painting Club. A real work of art. which was done mainly by under 5s .
The collage was displayed on Cookham Moor on the final day of the Cookham Festival, May Day, 4 May 2009; where bands were playing, arts and crafts were being performed and displayed and people were there for a fun day out.
A Family of Artists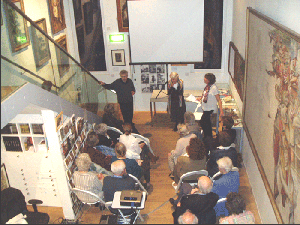 To mark the 50th anniversary of Spencer's death the Gallery welcomed members of the Spencer family and their in-laws the Carlines on Thursday 30th April 2009. As part of the Cookham Festival a packed gallery heard about the work of Stanley's wife Hilda Carline, and that of her artistic family. Called 'A Family of Artists' visitors were enthralled to hear about the work of Hilda's father, mother and two brothers. They were all part of the group of friends who supported and inspired Spencer. Taking part were Unity and Shirin Spencer, daughters of Stanley Spencer and Hilda Carline and Francis and Hermione Carline, children of Hilda's brother Richard, who were accompanied by Flora Carline, Richards grandaughter. Many of the images shown were of works normally kept in private collections.
Picture caption: Francis Carline (left)and Unity Spencer (centre) talking to the audience about their family. Chrissy Rosenthal (right) took the chair
Christ Preaching at Cookham Regatta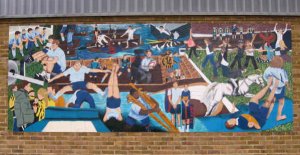 Last June the Stanley Spencer Gallery were contacted by Kim Allen, a teacher at Comberton Village College in Cambridgeshire. Kim said that she was currently embarking on a large (8' x 20') mural project based on Christ Preaching at Cookham Regatta. As this work was never completed, she felt it would be inspiring to use it as a starting point for a mural. In her experience, she felt that Stanley Spencer is under-used in schools because of the complexity of his compositions and so there was a unique opportunity to do something about it, working with 19 students for a week off timetable.
There were some changes after the original plans though, In the end they decided to do four panels of 6' x 4' so the complete mural is now 6' x 16', and several of the students who were going to be involved were away that week in the end, so only 14 took part.
Comberton Village College have their completed version of Christ Preaching at Cookham Regatta. Kim managed to get enough information together to produce the Stanley Spencer mural, which is now displayed outside the sports hall at Comberton Village College. Kim said "We had a fantastic time painting it, (14 students aged 12-13, working with Laura Chaplin, Carol Holburn and Kimberley Allen). It has had a lot of extremely positive feedback, from both staff and students.
The young people decided to write their initials on the hockey sticks, so the artists are acknowledged on the painting itself.
Happy Birthday Stanleyl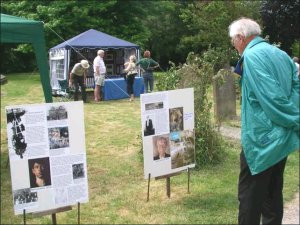 A wonderful celebration of Stanley Spencer's birthday took place on Sunday 29th June 2008 in the grounds of Holy Trinity church.
Cookham's world famous artist has always been popular with people coming from all over the country to see the Church and village that features in so many of his paintings.
The Stanley Spencer Gallery organised Sunday's open day, and people came to admire the flowers on his memorial, watch films of him at work in the Church, listen to Cookham's outstanding jazz band - the Fabulous Shirtlifters - see the bells that Stanley rang; see again the Hey Big Spencer and enjoy guided walks to many of his favourite places featured in his paintings.
Spencer Impresses Nathaniel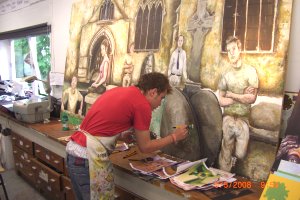 Seventeen year old Nathaniel Gliksman of Oswestry school, Shropshire, recently visited the Stanley Spencer Gallery to see some of Stanley Spencer's work. He also visited the Tate Gallery, Liverpool to see the Resurrection in the exhibition there. He was so impressed he decided to paint his own version for his recent A2 exam. The photo shows him working on it and depicts the local church with his friends and himself.

Author Peter Ackroyd Films at the Gallery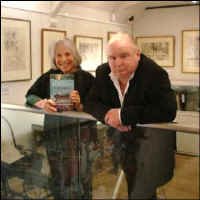 It was a busy day in the Spencer Gallery on Thursday 29th May because as well as visitors there was filming in the afternoon.

Author Peter Ackroyd is making a four part documentary for ITV and Sky Arts about his recent book about the Thames – and of course a visit to the Gallery is a must! He spoke to the Gallery's curator Carolyn Leder, who can both be seen in the photo.
Peter Ackroyd's Thames will air from 07 August - at 20.00 (peak time!) on ITV London. It will play on Sky Arts in September. The interview with Carolyn appears in Episode 2 (14 August ITV London). I