Welcome to The Stanley Spencer Gallery
Please Can You Help Find Stolen Spencer Painting?

The Trustees of the Gallery regret to inform you that we suffered a burglary. One painting was stolen, Cookham from Englefield, painted by Spencer in 1948. Click here for more information.
____________________________________________________________________

This Gallery is dedicated to the life and work of Sir Stanley Spencer RA. (1891 - 1959)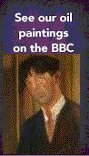 The Stanley Spencer Gallery was first opened in 1962, three years after the artist's death. It stands as a lasting memorial to the man who became synonymous with the village of Cookham. He loved his home; it gave him the strength and comfort he needed to be able to allow his imagination to soar and to fully exploit his genius talent for drawing and painting.
Opened by Spencer's friends and supporters it is still totally run by volunteers and has a wonderful collection of more than 100 of his paintings and drawings. In 2007 the Gallery was awarded a large grant from the Heritage Lottery Fund which enabled the former Methodist chapel to be transformed into a stunning exhibition space. Two exhibitions are held each year. The Summer Exhibition sees the Gallery's own collection augmented with loans from other galleries and private owners. There is also a fine archive of photographs, books and other written material. The Gallery welcomes both the casual browser and the serious student equally.
OPENING TIMES

SUMMER: 28 March 2013 - 3 November 2013
EVERY DAY 10.30 am - 5.30 pm
WINTER: 7 November 2013 - March 2014
Thursday to Sunday only 11.00 am - 4.30 pm (not open Christmas Day)

ADMISSION CHARGES

ADULTS
£5.00
CONCESSIONS
£4.00 (Seniors, Students)
The Art Fund - Free
CHILDREN
Free (with adult)
FRIENDS
Free (ON PRODUCTION OF MEMBERSHIP CARD)
GROUP BOOKINGS WITH TALK £30 PLUS ADMISSION. WALK ONLY £20 (MUST BE BOOKED IN ADVANCE: 01628 471885) Talk and Walk £50.
The Gallery opened with 'Spencer's Earthly Paradise - the Stanley Spencer Gallery 50th Anniversary Exhibition' from Feb 4th 2012 to 24th March 2013. Click here to see a short documentary film by students at Priory School in Slough. You can also see a film of the children performing their creative responses by clicking here. . These films follow 4 Cookham schools as they partake in a project run by the Stanley Spencer Gallery as part of its 50th Anniversary.
Print this page
Email to a friend
E-Mail:
info@stanleyspencer.org.uk
Tel 44 (0)1628-471885