The Friends of the Stanley Spencer Gallery
The Stanley Spencer Gallery is self-supporting and receives no endowment. It is given valuable support by the Friends, an organisation within the Stanley Spencer Memorial Fund, registered charity no 307989.
Application forms to join the Friends are available online (click here for .pdf application form) or from the Gallery. When joining, please consider making your subscription eligible for Gift Aid by completing the declaration on this form.
to promote interest both nationally and internationally in the work of Sir Stanley Spencer RA, CBE.
to assist in the running and maintenance of the Stanley Spencer Gallery in Cookham so that Spencer's work can be displayed in the village environment which inspired it
to provide financial aid towards that Gallery's running costs, and to contribute towards the acquisition costs of further works of Stanley Spencer.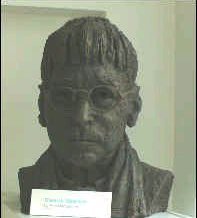 Membership of the Friends brings free admission to the Cookham Gallery during official opening hours; regular newsletters with events at the Gallery and exhibitions of Spencer's work elsewhere; invitations to private views and other special events at the Gallery. Members are also invited to join organised outings to art exhibitions and places of artistic or architectural interest at group rates.
Two year subscriptions: £15.00 single / £30.00 couple per annum - or five-year subscription £30.00 single / £50.00 couples.
Click here for a copy of the 2017 AGM minutes
EVENTS 2018
AGM at the Odney Club We hope you will be able to join us at the AGM, which will be held at the Odney Club in
Cookham at 8pm on Friday 23 March. The meeting will begin with a talk by the Gallery's new Registrar, Clare Mitchell. As usual, coffee will be served from 7.30pm. All are welcome, and there is no charge.
RAVILIOUS & CO. – COMPTON VERNEY, WARWICKSHIRE
Tuesday 27 March 2018. Coach leaves Braywick car park, Maidenhead, at 9.15am promptly. Please note, there is a parking fee of £5 for stays over 3 hours
CURATOR TALK
Wednesday 25 April, 7pm
Amanda Bradley talks about the works in the new Patron Saints: Collecting Stanley Spencer exhibition.
GALLERY LECTURE
Thursday 24 May, 7pm
Dr Susanna Avery-Quash, Senior Research Curator in the History of Collecting, National Gallery, examines Stanley Spencer's friendship with Gwen and Jacques Raverat.
GALLERY LECTURE
Thursday 28 June, 7pm
A Patron Saint: Wilfred Evill collected works by Spencer, but also by many other artists. Art historian James Rawlin, who worked on the sale of his collection for Sotheby's, examines his collecting philosophy.
CHICHESTER CATHEDRAL AND PALLANT HOUSE GALLERY
11 July 2018
Coach leaves Braywick car park, Maidenhead, at 8.30am promptly.
Please note, there is a parking fee of £5 for stays over 3 hours. Price: £32.00 each
Art Fund members: £29 each
GALLERY LECTURE
Thursday 12 July, 7pm
A Patron Saint: Sir Edward Marsh. Author David Boyd Haycock (Crisis of Brilliance) talks about 'Eddie' Marsh and the patrons who collected the work of Spencer and his contemporaries.
THE COOKHAM PATRONS WALK with Ann Danks (£5)
Monday 13 August, 10.30am
We walk the paths to the homes of Spencer's major patrons, Gerard Shiel, Mary Corble and Michael Westropp. Stout shoes required! (Spaces are limited)
BUILDINGS AND BEER
Wednesday 12 September, 7pm –
Historian Keith Parry and archivist Ann Danks look at the significance to Cookham and to Spencer of the old brewery buildings in Cookham.
All tickets cost £10 (unless otherwise stated) and can be bought and downloaded from Eventbrite.co.uk (search for Cookham events) or in person at the Gallery. (NB. There is a booking fee when using Eventbrite.
Click here for a report by Mavis Gregson on the Friends visit to Merseyside in June 2015.
| | | |
| --- | --- | --- |
| | Patron: | Lord Richard Harries of Pentregarth, formerly Bishop of Oxford |
| | President: | Dr James Fox |
| | Vice President: | Shirin Spencer |
| | Chairman: | Michael Johnson - 01628 629807 |
| | Honorary Secretary: | Sue Mahoney - 01628 810341 |
| | Honorary Treasurer: | Alan Harding - 01628 673607 |
| | Committee Members: | Pam Roberts, Brian Schirn, Margarette Shore, Richard Woodrow |