Stanley Spencer: Visionary Painter of the Natural World
24th March until 31st October 2016
Glorious depictions of the natural world, exploring Spencer's consummate skill in a series of exquisitely executed flower paintings, garden vistas and landscapes. Figurative and spiritual scenes amongst these wonderful paintings movingly remind us of the visionary element pervading all of Spencer's work.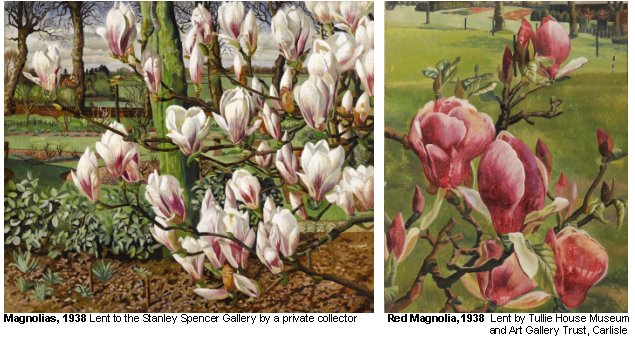 Electronic simulation One run of paintings to appear in this exhibition
The Stanley Spencer Gallery is currently displaying an unforgettable series of paintings of the outdoor world, many of these rarely seen within such easy reach of London, South East England, or Southern England more generally. The works include lush plants and flowers, together with gardens, green spaces, landscapes and river scenes.. Amid this rich display are paintings that directly remind us of the spiritual nature of Spencer's work: biblical happenings, emanations of cemeteries, and the emotional resonances of some of Spencer's finest double portraits.
Right from the outset and throughout this exhibition, the visitor will encounter a breathtaking array of some of Spencer's most memorable works. There are a number of major spiritual works, all being set against backgrounds of the natural world: a rocky outcrop of the Macedonian mountains, a profusion of vegetables in the front gardens of Cookham High Street, the green hillside expanses of Port Glasgow Cemetery, all of these being connected in one way or another with Spencer's wartime experiences.
There follows a stunning series of flower, garden, landscape, seascape and riverside paintings, interposed with the occasional figurative work and the double portraits already noted, of which the most heart-rending is that of first wife, Hilda, with daughter Unity and her dolls.
The exhibition includes loans from Aberdeen City Art Gallery, Leeds City Art Gallery and from the Tullie House Museum and Art Gallery Trust in Carlisle. There are also Spencer works from the British Council Collection, and loans from several private collectors. We are most grateful to all of our lenders for the high esteem in which they place the Stanley Spencer Gallery and their generosity to us.
This is an exhibition to enthral and enchant all visitors, from Spencer cognoscenti, to gardeners and lovers of the natural world and all those unaware of the extraordinary world of the artist, who may be inescapably drawn to Spencer's work by this astonishing and wholly accessible facet of his genius.