Stanley Spencer Gallery Winter Exhibition
7 November 2013 - 30 March 2014
Winter Exhibition 2013-2014: Stanley Spencer in Cookham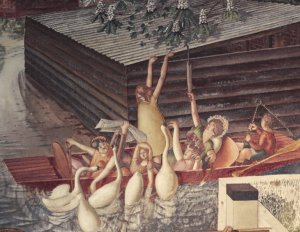 Spencer's name is synonymous with picturesque Thames-side Cookham, the village he immortalised, termed by him his 'earthly paradise'. For him it was the scene of heavenly visitations. This exhibition celebrates his response to Cookham, whether in figure paintings, drawings or landscapes.
One could be tempted to take a real or notional walk through Cookham, guided by the locations of the works. Starting at Lindworth (where Patricia Preece danced to Spencer's gramophone), one could note the artist's birthplace Fernlea (the setting for Neighbours, elected by the public to the recent Art Everywhere, national poster campaign), then stroll past Sarah Tubb and her heavenly visitors on the High Street, to find Christ and his disciples in a malt house. On the Thames by Cookham Bridge, Christ preaches to the crowds at Cookham Regatta. 'Cocky', the yellow-crested cockatoo, can still be envisaged on his riverside perch. As Spencer wrote, 'Cookham is such a positive place that it makes the production of imaginative efforts an absolute need.'
The exhibition includes the gallery's latest acquisition, a study for the picture The Beatitudes of Love: Consciousness. Spencer made this controversial pencil drawing in 1937, the year of his divorce from Hilda and failed marriage to Patricia. At a time when his life had gone disastrously awry, he was embarking on The Beatitudes of Love series, representing couples, or husbands and wives. As Patricia later commented, 'He once said: "I can realize in pictures what I have not realized in life."' Spencer explained, 'Husband & wife: Consciousness. Without any particular reason for it they are suddenly aware of each other… and the couple start licking each other's tongues when a moment before they could never have believed it possible. But it means & expresses something... I call it consciousness because it is like waking up & realizing all one has been missing while asleep & making up for lost time.'

We are greatly indebted to those private collectors who so generously support the gallery, whether by gift or long-term loan.
Print this page Email to a friend E-Mail: info@stanleyspencer.org.uk Tel 44 (0)1628-471885